Markt(l)Xperiment feat. Daniel Sadownick (New York) – perc. – 20.00
Datum: Mo, 21.10.2013
Veranstalter: Verein Innenhofkultur
Ort: raj, Badgasse 7, 9020 Klagenfurt - 1. Stock
Die neue Konzertreihe "Markt(l)Xperiment" im raj.

Michael Erian - saxophone | Rob Bargad - piano/voice

Philipp Zarfl - bass | Klemens Marktl - drums & mastermind

and: Daniel Sadownick (New York) - perc

Eintritt: € 8,00 | SchülerInnen, StudentInnen € 5,00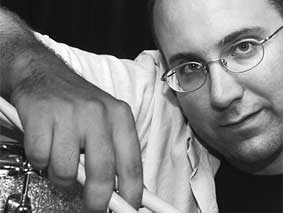 KLEMENS MARKTL PRESENTS –
HOT PERCUSSION NIGHT @ raj
Featuring Special Guest:
DANIEL SADOWNICK – Percussion
Plus:
Klemens Marktl – Drums
Philipp Zarfl – Bass
Michael Erian – Saxophones
Rob Bargad – Piano
Bronx native Daniel Sadownick earned a Master""s Degree in Musical
Education at New York University, where he also studied composition. He then
went on to study privately with percussion masters Andrew Cyrille, John
Amira and the late, great Frankie Malabe. After graduating, Mr.
Sadownick toured with the Lionel Hampton Orchestra for two years. It was
here that Daniel made numerous contacts that would lead to tours and recordings
with Jazz greats such as: Michael Brecker, Dennis Chambers, Nicholas Payton,
Christian McBride, Nat Adderley, Pat Martino, Dianne Reeves, Carl Allen, Dewey
Redman and many others.
An incredibly versatile percussionist, unlimited by any one genre, Daniel
has pent the last few years touring and recording with such diverse artists as:
Taylor Swift, Steely Dan, MeShell NdegeOcello, Jennifer Lopez, Al Green, The
Roots, Billy Idol, Tony, Toni Tone"", Al Jarreau and Maxwell. Daniel is also
a member of The Screaming Headless Torsos (with Dave Fiuczynski). His
own CD, "There Will Be A
Day," features multi-percussion in a straight-ahead and Latin-Jazz context.
KLEMENS MARKTL & raj WELCOME ALL TO THIS VERY SPECIAL CONCERT PERFORMANCE OF ONE OF THE GREAT
MASTER PERCUSSIONISTS OF ALL TIME!!!!