"Herr Lehmann" & "The One And Only" – 20.00 – 1. Stock
Datum: Sa, 28.09.2013
Veranstalter: Verein Innenhofkultur
Ort: raj, Badgasse 7, 9020 Klagenfurt - 1. Stock
Herr Lehmann (Singer/Songwriter, Dortmund)

The One And Only (Acoustic/Folk/Rock, Klagenfurt)

Eintritt: 5 €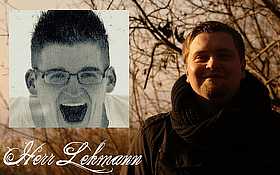 Herr Lehmann (Singer/Songwriter, Dortmund)
"Musik machen mit Herz, Kopf und Verstand" Herr Lehmann – das ist nicht nur ein Buch von Sven Regener, sondern auch ein Projekt, welches nach vielen Band Geschichten, innerhalb der letzten 10 Jahre, nun eigene Gedanken und Gefühle beschreiben und verarbeiten soll. Hinter dem Singer/Songwriter Projekt "Herr Lehmann" steckt André Becker und seine "deutschsprachige Herzmusik.
fb: www.facebook.com/lehmannmusik
youtube: www.facebook.com/herrlehmannmusik
The One And Only (Acoustic/Folk/Rock, Klagenfurt)
THE ONE AND ONLY – das ist ein Bandprojekt aus Klagenfurt in Kärnten, Österreich das seit 8. Mai 2009 besteht. 4 Jahre sind seit diesem Tag vergangen. Konzerte in ganz Österreich und das Einsetzen von rhytmischen Elementen wie Basedrum oder Tambourine machen die Konzerte von TOAO zu einer einzigartigen One-Man-Show. Supportslots für Julian le Play, Bilderbuch, Kreisky oder Blackout Problems(D) prägen auch den Musikstil des Musikers. Elemente aus dem Singer/Songwriter-Bereich finden sich in den Liedern genauso wieder, wie Rock, Pop, Folk oder Punk.
fb: www.facebook.com/ocktheoneandonly
youtube: www.youtube.com/20TheOneAndOnly09