WILD STRINGS TRIO
Datum: Mi, 11.05.2016 um 20:30
Veranstalter: Verein Innenhofkultur
Ort: raj, Badgasse 7, Klagenfurt
Petra Onderufova (SK) – Violin
Aleksander Kuzmić (SI) – Guitar | Toby Kuhn (FR) – Cello
Statt einem Eintrittspreis wird um Spenden gebeten !
Entrance: JUST DONATIONS !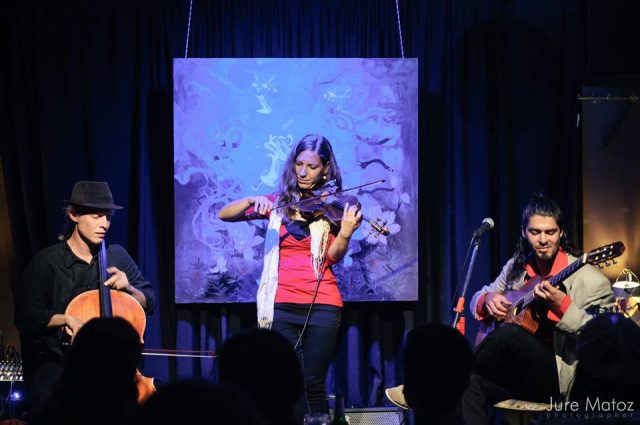 WILD STRINGS TRIO
Wild Strings Trio je energično trčenje slovaške violinistke, čelista iz Francije ter kitarista iz Slovenije. Njihovo žanrsko glasbeno popotovanje združuje balkansko in keltsko tradicijo, polno epskega orkestralnega zvoka, ki je prepleten z avtorskimi aranžmaji in improvizacijo. Kompleksne harmonije in ritmi se prepletajo s pozitivnimi temami polnimi radosti in volje do življenja.
Wild Strings Trio is the collision of three musicians and three musical cultures, blending traditional Balkan with Jazz and Classical in an exuberant festival of bright colors and textures, complex harmonies and rhythms, all mixed up with a liberal dose of the joy we have at being alive.
Das Wild Strings Trio ist die Verbindung von drei Musikern mit ihren unterschiedlichen Musikkulturen: traditioneller Balkan-Style – mit Jazz und Klassik. Die Musiker lassen uns mit ihrer sprühenden Lebensfreude an einem überschwänglichen Fest von hellen Farben und Texturen, komplexen Harmonien und Rhythmen, die alle miteinander verschmelzen, teilnehmen.
www.wildstringstrio.org

https://www.youtube.com/watch?v=gw2rAXWa1co
https://www.youtube.com/watch?v=eLn12ONiiBI
https://www.youtube.com/watch?v=jQJW9xkdQB8