WATUSSI – 18.00
Datum: Sa, 20.04.2013
Veranstalter: Verein Innenhofkultur
Ort: raj, Badgasse 7, 9020 Klagenfurt
Ingrid Schmoliner (AT) - piano, voice

Joachim Badenhorst (BE) - reeds

Pascal Niggenkemper (DE/FR) - doublebass

Eintritt: € 10 | 8 | 5 (MusikstudentInnen)

Auf Grund des FEST DER KÄRNTNER STAATSKÜNSTLERiNNEN | ŽUR KOROŠKIH DRŽAVNIH UMETNIKOV, welches um 20.00 in der Theaterhalle 11 beginnt, vorzeitiger Beginn !

Also: Sensibles Konzert im raj, dann in die 11er-Halle !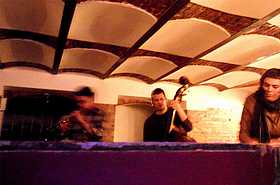 WATUSSI
Ingrid Schmoliner (AT) – piano, voice
Joachim Badenhorst (BE) – reeds
Pascal Niggenkemper (DE/FR) – doublebass
Listen Closely, 2013
Following their CD release from 2010 "Flaechten" (TARO) Ingrid Schmoliner and Joachim Badenhorst are now expanding their grown-intensive ensemble-playing between piano_voice and clarinet_saxophone to include Pascal Niggenkemper playing the double bass – the trios CD/LP "Watussi" is released at the austrian label "listen closely" March 2013.
Some of the musical ideas have already been hinted by the musicians at the New_Adits_Festival in 2010. They have now been further formulated. Marked, subtile, course are expressions that could – amongst others – characterize this trios music.
What makes this music instantly recognizable are the three avant-garde musicians concise tonalities, with their sound-experimental structures in which prepared piano and yodeling organically intermingle with creaking bass percussion and the often fragile sound landscapes of the woodwind instruments.
precision and sensitive ensemble playing make it possible for a deep and calm space to evolve in which the equally surprising and clear ends resolve themselves.
In their playing the tri-national trio brings together the latest developments of the avant-garde/free jazz scenes in Vienna, New York and Belgium in a result well worth its listening time.
Releastour:
* 17/04/13 turn the corner @ www.porgy.at
* 18/04/13 Raum_4_12 @ www.ingridschmoliner.com (Raum_4)
* 20/04/13 raj @ www.innenhofkultur.at
* 10/05/2013 Labelfest Listen Closely @ www.brick-5.at
Contact/Booking:
Ingrid Schmoliner, e-mail: ingridschmoliner@gmx.at, www.ingridschmoliner.com, 0043 650 4881884