VLADIMIR KOSTADINOVIC / BJORN SOLLI  "EXPERIENCE"
Datum: Sa, 17.09.2016 um 20:30
Veranstalter: Verein Innenhofkultur
Ort: raj, Badgasse 7, Klagenfurt
SPECIAL DEAL for the studies !
Renato Chicco-p | Bjorn Solli-git
Milan Nikolic-b | Vladimir Kostadinovic-dr
Eintritt: € 12 | € 10 | € 5 für SchülerInnen und StudentInnen !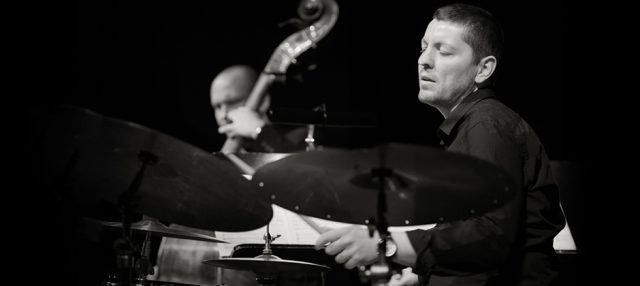 Vladimir Kostadinovic, award winning drummer (Tuscia in Jazz 2008, Jimmy Woode Competition) bandleader, composer & arranger started his musical education at the age of five when he began studying classical accordion. He also started playing the drums professionally at the age of eleven. Drums has always been his real love and he wanted to pursue it, with a passion! Vladimir ranks high among drummers who are versatile and savvy enough to play different styles of music, as a sideman and with his own projects. In August 2009 he was invited to perform with a master of organ Tony Monaco. During that time Vladimir also formed his own quartet with Jimmy Greene, Danny Grissett and Matt Brewer which featured his own compositions. In 2009 he went into the studio in New York with his band and recorded his CD "COURSE OF EVENTS". Shortly thereafter he joined the band Antonio Farao Trio, with whom he is currently playing and traveling all over Europe. Vladimir also recorded his second album as a leader "THE LEFT SIDE OF LIFE"  feat. Seamus Blake, Joe Sanders and Marko Churnchetz live at the Generations Jazz Festival in Frauenfled Switzerland, which was released on ENJA Records in 2016.
In last few years, Vladimir has spent a lot of time playing and recording in The Big Apple with many great jazz musicians on the world scene.
He has had the pleasure of sharing the stage with:  Benny Golson, George Garzone, Antonio Farao, Kevin Hays, Gregory Porter, Till Brönner, Seamus Blake, Bob Mintzer, Jimmy Greene, Didier Lockwood, John Ellis, Dusko Goykovich, Franco Ambrosetti, Danny Grissett, Darryl Hall, Marcin Wasilewski, Johnny O'Neal, Tony Monaco, Peter King, Bill Ramsey, Vicente Archer, Joe Sanders, Matt Brewer, Benito Gonzales, Donald Smith, Kiyoshi Kitagawa, Eric Lewis, Antoine Drye, Tivon Scott Pennicott, Mansur Scott, Joel Holmes, Andy Middleton, Rob Bargad, Jonathan Powell, Martin Djakonovski, Flavio Boltro, Claus Raible, Bjorn Solli, Max Grosch, Renato Chicco, Fritz Pauer, Andre Heller, Andrea Eckert, Maria Bild, Katharina Strasser, Imre Lichtenberger Bozoki, Kevin Glasgow, Thana Alexa, Oliver Kent, Uli Langthaler, Johannes Strasser, Francesco Angiuli, Mathias Bublath, Peter Herbert, Wolfgang Puschnig, Christian Havel, Herwig Gradischnig,  Erwin Schmidt, Karl Ratzer, Philipp Nykrin, Daniel Noesig, Julia Siedl, Michael Kroess, Jaka Kopac, Marko Churnchetz, Igor Matkovic, Robert Jukic, Lenart Krecic, Nina Strnad, Blaz Jurcevic, Nikola Matosic, Jani Moder, Adam Klem, Jure Pukl, Filip Bulatovic, Bojan Turkic, Nikola Stanosevic, Marija Blagojevic, Meca Ahmetovic, The Freakcontrollers, Baobab Ensemble, Stefan Pista Bartus, Tomas Gajlik, Michael Bugala, Ondrej Stveracek, Robert Ragan, Rado Tariska, Lucia Luzinska, Milan Nikolic, Branko Markovic, Milan Pavkovic, Aleksandar Jacimovic, Ivan Aleksijevic, Sasha Mutic, etc..
EDUCATION: He finished primary and secondary music school in Belgrade and graduated from the jazz department for drums in the class of Miroslav Karlovic. After music high school Vladimir enrolled at the University for Musik and the Performing Arts in Grac. In 2009 he graduated his Master's Degree with honours in the class of Professor Howard Thomas Curtis.
"With this great man and teacher, from whom I received valuable instruction, I've significantly upgraded my playing skills and music language."
AWARDS:  BEST DRUM PLAYER- Tuscia in jazz 2008 Jimmy Woode competition.Teachers and jury: Kenny Barron, Francisco Mela, Kiyoshi Kitagawa, Shawn Monteiro, Eddi Palermo, Karl Potter, Rick Margitza,Tony Monaco, Ray Mantilla, Flavio Boltro, Giorgio Rosciglione, Gege Munari.
WORKSHOPS: He participated in the workshops of Greg Hutchinson, Jeff"Tain"Watts, Kenny Barron, Joey Calderrazzo, Kurt Rosenwinkel, Scott Coley, Jerry Bergonzi, Billy Hart, Bob Mintzer, John Hollambeck, Ron McClure, Trilok Gurtu, Horazio Hernandez, Dennis Irvin, Obed Calvaire, Jonathan Blake, Rodney Holmes..
FESTIVALS: Vladimir has played many prominent festivals in the United States, China, Cuba, Europe: Germany, England, Holland, Switzerland, France, Spain, Austria, Italy, Slovakia, Poland, Serbia, Slovenia, Croatia, Hungary, etc..
CLUBS:  Blue Note (Milano), Ronnie Scotts (London), New Apartment Lounge, Jazz Showcase (Chicago), 55 Bar (Nyc), Smalls (Nyc), Fat Cat (Nyc), Ibeam (Nyc), Somethin Jazz (Nyc), Porgy&Bess (Vienna), Jazz Bar (Edinburg), ORF Radio Kulturhaus (Vienna), Jazzland (Vienna), Birdland (Vienna), Bird's Eye (Basel), Moods (Zurich), Grand Casino (Luzern), Palace Of Arts (Budapest), Blue Note (Nove Mesto), Cankarjev Dom (Ljubljana),  Zwe (Vienna),  Stokwerk (Graz), Royal Garden (Graz), Miles (Graz), Satchmo (Maribor), Sax Pub (Ljubljana), Cekaonica (Belgrade), Jazz Hram (Divaca), Hlava XX (Bratislava), Cultural Center (Zagreb), Jazz Club (Sarajevo), etc…
Performance in Theatre productions: Graz National theatre "Schauspielhaus" and "Volkstheater" in Vienna
Big Band/groups: Bob Mintzer, Peter Helbozheimer, Sigi Feigl..
DISCOGRAPHY