URBAN TROPICS 2018 – Krumpendorf !!
Datum: Fr, 06.07.2018 um 17:00
Veranstalter: Dark City Ve + Ve Innenhofkultur
Ort: ÖGB-Ausbildungszentrum Krumpendorf
ÖGB Ausbildungszentrum, Hauptstraße 159
9201 Krumpendorf am Wörthersee
Day-Ticket: 5eu / Festival-Pass: 8eu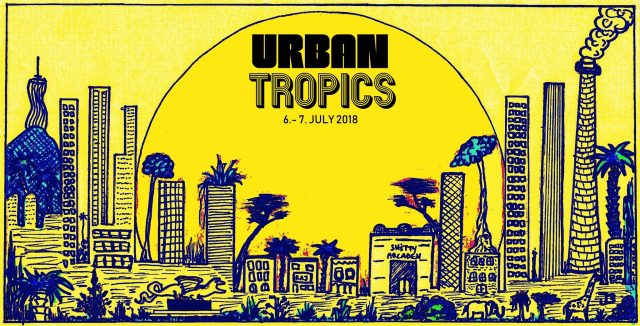 he third edition of your handmade, local summerfestival in carinthia with urban and tropical music!
this year in a new industrial off-space location in krumpendorf – close to the lake!
line-up:
// Fr. 6.7.18 from 5pm – URBAN DAY hosted by 
Urban Playground
 //
noedge
 live + freestyle cypher (Graz)
Beatbattle: hosted by 
DJ Radiate KMF
Pekave
 / DJ Radiate
Live-Graffiti: MONE HSP 25%
TBA
// Sa. 7.7.2018 from 4pm – TROPICS DAY hosted by Sangoma Session //
MAR & SOL SOUNDSYSTEM (Lisboa, PT)
DJ MIXNIX
SAMAN
GLOBAL SOUL DJ-TEAM
// ARTISTS IN RESIDENCE SHOWCASE – hosted by Dark City – Die freudlose Gasse 18 //
+ COCKTAIL-BAR
+ WATERGAMES
+ SLOWFOOD
This is a festival based on mutual respect and transcultural love!
Support your local Artists!
6.7 – 7.7.2018
ÖGB Ausbildungszentrum, Hauptstraße 159
9201 Krumpendorf am Wörthersee
Day-Ticket: 5eu / Festival-Pass: 8eu