Todd Clouser – MAGNET ANIMALS | Villa For Forest
Datum: Sa, 24.09.2022 um 20:00
Veranstalter: Verein Innenhofkultur
Ort: Villa For Forest, Viktringer Ring 21, Klagenfurt
DAS IST very special!!
Todd Clouser – guitar and voice
Shanir Ezra Blumenkranz – bass
Jorge Servin – drums
Eintritt: € 24 | € 12 StudentInnen, SchülerInnen, unter 18
(1 € aller Tickets ist für den Betrieb der Villa For Forest !! - Grössere Spenden: HERZLICH WILLKOMMEN)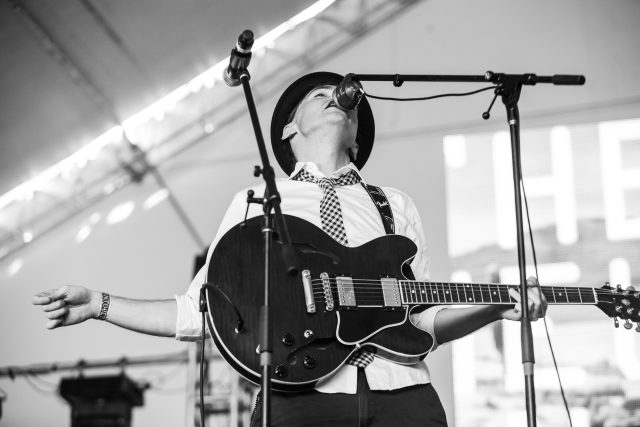 Rarenoise says :
If ever a moment in history called for the caustic, corrosive rantings of guitarist-composer-poet Todd Clouser and the abstract grooves of his combustible beat-skronk band Magnet Animals, it's this one. With our collective headspaces dizzied by a nearly yearlong pandemic induced isolation and battered by an unceasing barrage of political insanities, the serrated wit and surrealist insights of Fake Dudes arrives with the kinetic force of a madcap sermon.
Due out March 26, 2021 via RareNoise Records, Fake Dudes reconvenes the geographically scattered members of Magnet Animals – Minneapolis-born, Mexico City-based Clouser, Mexican drummer Jorge Servin, and Abraxas bandmates Eyal Maoz (guitar) and Shanir Ezra Blumenkranz (bass) – four years after their bracing debut, 2016's Butterfly Killer. The startling dreamscape imagery and throttling grooves will be familiar to fans of that initial outing, though Fake Dudes trades its predecessor's occasional airiness for a far more ferocious and claustrophobic concoction.
With its titular echo of the disinformation mantra "fake news," Fake Dudes certainly aims some of its vitriol toward the modern era's buffoonish demagogues, but for every biting political reference there's an equally astute and excoriating glimpse inward, as Clouser wrestles with humanity's penchant for self-delusion and reassuring fantasy. Delivered in a distorted haze as if broadcast through a megaphone, Clouser's vocals achieve an abrasive tone perfect for stripping away illusions and heralding a fresh perspective – buoyed by the barbed funk bounce and overdriven rock bludgeoning of the inventive quartet.
Release Date : March 26th, 2021
Believe
Burn The Whole Thing Down
Fake Dudes
Forecast In Rome
Freaks
Hell Is An Empty Place
I'm The One
Man And Machine
The Call For The Cure
The Kids Are Gonna Win
Todd Clouser – guitar and voice
Eyal Maoz – guitar
Shanir Ezra Blumenkranz – bass
Jorge Servin – drums
All songs by Todd Clouser
Music Arranged by Shanir Ezra Blumenkranz and Magnet Animals
Produced by Todd Clouser, Shanir Ezra Blumenkranz and Magnet Animals
Published by RareNoisePublishing (PRS)
Recorded by KB at Testa Estudio in Leon Guanajuato Mexico
Mixed and Mastered by James Dellatacoma at Creative Music and Audio – New Jersey, USA
Executive Producer for RareNoiseRecords: Giacomo Bruzzo
Design and Photography by Mario Rodriguez
© + ℗  RareNoiseRecords 2021
---
Todd Clouser (A Love Electric)
Todd Clouser is a composing guitarist, songwriter and performer based between Mexico City and the USA. Combining elements of rock, jazz blues, spoken word and improvised musics, Clouser has toured the world with his group A Love Electric, as a solo act and performed alongside luminaries from John Lurie to John Zorn, Flea, Cyro Baptista, John Medeski, Keb Mo, and more, performing at rock, jazz and world music festivals across the globe.
Clouser's prolific output and genre-evading creativity had NPR call Todd "a fascinating musician ….. (he) doesn't belong to any scene and doesn't want to", Time Out NYC hailing his rock jazz trio A Love Electric as "illuminating", and Mexico City's La Jornada mentioning the group as "one of the most important acts of recent years". A native of Minneapolis, MN, Clouser grew up traveling the USA following his favorite artists and self publishing poetry and recordings before being signed to Ropeadope Records for his first "proper" release, entitled "A Love Electric". As time and tours passed, A Love Electric became a band, first an instrumental act joined by NYC downtown scene heroes Steven Bernstein, Cyro Baptista, and Billy Martin, eventually settling as a trio that explores Clouser's songwriting while honoring the inquisition and fearlessness or jazz tradition, with Hernan Hecht on drums and Aaron Cruz on bass. The trio has gone on to release 6 records on labels in the US and Mexico while performing nearly 1,000 concerts in the span of 7 years.
While Clouser is perhaps most recognized in his Mexico City home as the leader of A Love Electric, he has also released the "psychedelic naked lunch" (Distorsioni Magazine – Italy) record "Butterfly Killer" with the group Magnet Animals (featuring Shanir Blumenkranz, Eyal Maoz, and Jorge Servin) on Rarenoise Records (London, UK). An experimental offering, CHANT found Todd collaborating with street singers, friends, and artists from Mexico City and Minneapolis, the live CHANT show turning into a freewheeling conduction experiment calling the audience to the stage. Clouser also writes songs for a duo project with Mexican singer Renee Mooi, the two performing at festivals and in clubs throughout latinAmerica. His solo song record entitled "Man With No Country" was produced by Anton Fier (Golden Palominos) and released on Billy Martin's Amulet records. A record of "music for unmade film" entitled "Cinema" was self released with pianist Alex Mercado in 2017. As guitarist for the group Klezmerson, Todd has recorded for the prestigious Tzadik Records, going on to perform the compositions of John Zorn at The Village Vanguard in New York City and as part of "Masada Marathons" in Sarajevo and Vienna.
 Clouser's recent solos releases are "You The Brave : Live at Icehouse" in trio with John Medeski and JT Bates, a series of 3 EP's of quarantine-time compositions entitled "Solitary Daydreams", and a series of collaborations with Mexican experimental guitarist Alex Otaola highlighted by the "sonic calendar", an interactive creative interface up at www.toddclouser.com/otaola-clouser.