THE NUBAND – 20.00
Datum: Di, 25.03.2014
Veranstalter: Verein Innenhofkultur
Ort: raj, Badgasse 7, 9020 Klagenfurt
ROY CAMPBELL, JR. (trumpet, flugelhorn) | MARK WHITECAGE (alto sax, clarinet)

JOE FONDA (bass) | LOU GRASSI (drums, percussion)

Eintritt: € 15 | 12 | 7,50

THOMAS HEBERER (tp) wird den Platz des leider verstorbenen ROY CAMPBELL einnehmen.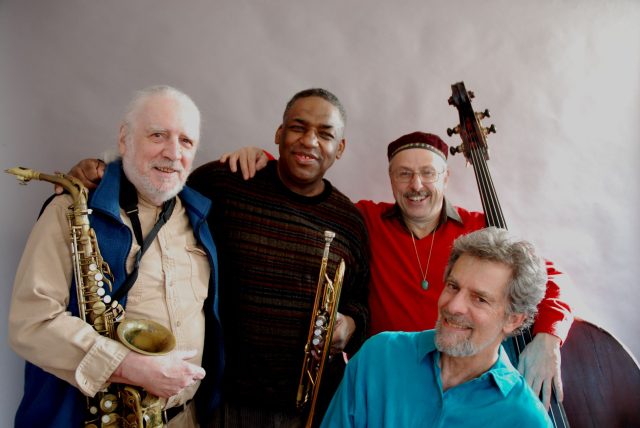 BECAUSE OF THE SUDDEN DEATH OF ROY CAMPBELL:
We are fortunate to have secured the services of trumpet master Thomas Heberer http://www.thomasheberer.com/ for this tour. Thomas has been an integral part of the New York creative music scene for the past 8 years and a dear friend to us. We trust that you will join us in giving him our full support as he joins us for this tour.
The Nu Bandis a sparkling, dynamic group of pros – all of whom
lead a number of groups, play and record with a variety of world-class
musicians, and compose.
The Nu Bandhas performed at The Knitting Factory, The Vision Club Series and The Music Now Festival in NYC;The Bop Shop, Rochester, NY;The Chicago Cultural Center; Hallwalls
Contemporary Center for the Arts,Buffalo,
NY;The Detroit Art Space,
The University of Pittsburgh, The University of Indiana and many other venues throughout the U.S.
The Nu Bandtoured Europe in January 2005, October 2007 and
January 2009 thrilling audiences inFrance, Netherlands, Germany, Belgium, Switzerland, Poland and Austria.They have four well-received CD releases available— Lower Eastside Blues(Porter Records PRCD 4025), The Dope and The Ghost / Live in Vienna(NotTwo Records MW788-2),The Nu Band Live (Konnex KCD 5141), The Nu Band / Live at The Bop Shop(Clean Feed CF002CD).
ROY CAMPBELL, JR.(trumpet, flugelhorn) has been leading his own bands
for over three decades. Presently he leads Tazz, the Pyramid Trio, Shades and
Colors of Trane, the Last Messengers, and the collective band Other Dimensions
in Music. He is a leading innovator on his instruments and a renowned composer
and arranger, and he has toured Europe, America, and Japan. All of his Delmark
CD""""""""s have risen high on critics"""""""" and readers"""""""" polls; "Ethnic Stew and
Brew" was the #3 CD of the year in 2001, according to Jazz Times.
"Roy Campbell is a monster trumpeter. He""""""""s the latest in a long line that
has extended from Navarro through Brownie through Booker Little and beyond."
–Robert Iannapollo, Cadence Magazinewww.RoyCampbellMusic.com
MARK WHITECAGE(alto sax, clarinet) is internationally known as a
dynamic, ceaselessly inventive instrumentalist and composer in jazz and new
music. Current projects include solo work as well as his own duos, trios,
quartets and quintets. He has a number of award-winning recordings on CIMP, GM
Recordings, and his own label, Acoustics. His 2005 Acoustics CD,
"BushWacked – A Spoken Opera" was voted one of the year""""""""s best by All
About Jazz – LA. Since the 1960""""""""s he has performed and recorded with some
of the leading artists of our time, including Jeanne Lee, Anthony Braxton,
Gunter Hampel, Dominic Duval, Joe McPhee, Steve Swell, Marshall Allen and Saheb
Sarbib, in the US, Canada, and Europe. "The man is an absolute
master of the alto saxophone and clarinet (not to mention a dab hand at
electronics), and one of the finest and most original jazz composers in the
world, and has been for years" – Dan Warburton, Paris Transatlantic,
Signal to Noise www.erjn.it/mus/whitecage.htm
JOE FONDA(bass) is an accomplished international artist who has
performed and recorded as a leader in his own ensembles, most notably The
Fonda/Stevens Group, throughout the United States and Europe, and as a sideman
with Anthony Braxton, Archie Shepp, Bill and Kenny Barron, Ken McIntyre,
Charlie Persip, Lou Donaldson, Leo Smith, Curtis Fuller, Mark Whitecage, Kunle
Mwanga, Majeed Greenley, Bobby Naughton and others. "The music of Joe
Fonda is part of a living tradition of belief and dedication. Future historians
will be surprised at the breadth of Mr. Fonda?s offerings. This is a real
virtuoso and composer of the highest order." – Anthony Braxtonwww.joefonda.digitalspace.net
LOU GRASSI(drums, percussion) is internationally known for his
work in both the traditional and the avant-garde jazz worlds. From the 1970""""""""s
to the present, Lou has performed and/or recorded with a great variety of
outstanding artists, including Marshall Allen, Borah Bergman, Rob Brown,
Charles Gayle, Urbie Green, Gunter Hampel, Johnny Hartman, Sheila Jordan,
William Parker, Perry Robinson, Roswell Rudd, John Tchicai, Fred van Hoveand
many others. Lou is the leader of the Lou Grassi PoBand which has released five
CDs and received critical acclaim worldwide. "Lou Grassi is one of those
few jazz players who is as comfortable with straight ahead bop as he is with
ventures into the realm of the totally free and the creativity and energy are
boundless." Steven A. Loewy All Music Guide to Jazzwww.lougrassi.com
The Nu Band "Lower Eastside Blues" Review Quotes
"One of the best free bop bands of the moment is
without a doubt The Nu Band, with four seasoned musicians who are as
comfortable in the most complex jazz traditions as in the adventurous sonic
explorations of nowadays, mixing them with rhythm, soul, spirituality, a
deep-felt sympathy for humanity, a strong dose of political criticism, joined
with humor and self-relativation. This album will not change your life, nor
will it alter music history, but it will offer you all the musical joy you can
expect from great music and wonderful musicians: it is rich, soulful,
spiritual, fun, varied, expressive, moving, elevating …. Highly
recommended."
stef
gijssels freejazz-stef.blogspot.com
". . . the Nu Band is committed to the preservation of the roots
of jazz as well as the extension of those traditions into a current idiom.
Right from the opening title track we""re subjected to a statement of intent
that""s crystal-clear: a theme that carves itself into your memory, and solos
that range across the stylistic gamut, from neatly appropriate to
semi-embittered to coolly intellectual . . . definitely sets the quality bar
satisfyingly high."Massimo RicciParis Transatlantic Magazine
"To those who thought The Nu Band was a one-shot group,
witnessLower East Side Blues, its fourth album since 2003 and first recorded in a
studio. With such busy schedules it seemed as if four musicians of this caliber—trumpeterRoy Campbell, alto saxophonist/ clarinetistMark Whitecage, bassistJoe Fondaand
drummerLou Grassi—couldn""t stay together very long.
That they now have several international tours behind them and have a
burgeoning discography is an indication of their level of commitment.The Nu Band sounds like four musicians
who genuinely enjoy playing together. And Lower East Side Blues has all of the
heat, drama and high-quality improvising that makes a jazz recording worth
hearing."
Robert Iannapollo AllAboutJazz.Com
"Formed as a
collaborative venture in 2000, The Nu Band consisting of Mark Whitecage on alto
saxophone and clarinet, Lou Grassi on drums, Roy Campbell on trumpet and
flugelhorn and Joe Fonda on bass explores in a very interesting way the intersection
of mainstream and free jazz. It is clear that the musicians have a great
respect for the jazz tradition and use that as a springboard for their
compositions and improvisations on this album. "Lower East Side
Blues" opens the album with a strong and deep performance, with the
soloing and ensemble playing marking a fertile and earthy feel . . .This was a well played and thoroughly
enjoyable album of progressive jazz that is quite accessible. The music is both
thoughtful and exciting and the musicians involved have a deep sense of the
jazz tradition without being beholden to it." Tim Niland Music and More
"Lower
East Side Bluesis the fourth date in six years for the
Nu Band, a pianoless quartet joining Fonda with longtime collaborator reedman
Mark Whitecage, trumpeter Roy Campbell, Jr. and drummer Lou Grassi on seven
originals by the group . . .the
Nu Band might strike one as being rather "straight-ahead," and in
some ways it is – a bouncing slice of harmonically open bebop . . . gorgeous
group commentary . . . Grassi's tune "The Last of the Beboppers"
reinforces what the Nu Band brings to the table – namely, a gritty and only
slightly unhinged take on post-bop and loose Latin. YetLower
East Side Bluesis
ultimately a very bright recording for the connotations of its title."
Clifford AllenBagatellen
". . . an
excellent snapshot of one day in the life of a quartet that's taking the basic
jazz elements of Swing, surprise, and imagination to make it all Nu again. It
gets better each time around."
Stuart Kremsky.Cadence
The Dope And The Ghost
"This quartet outing highlights the integration of hyper-mode phrasings,
torrid exchanges and judicious placement of melodically-tinged themes. . . the
instrumentalists' stylistic mode of operation and intuitive interplay cannot be
understated. These seasoned modern jazz warriors exalt a hodgepodge of
emotively-charged and revved-up undercurrents that yield the winning
edge."
Glenn Astarita AllAbout
Jazz.com