Südseiten Festival @ NAB – ANTHONY BASSO TRIO ( I )
Datum: Sa, 08.09.2018 um 20:45
Veranstalter: Südseiten Festival
Ort: New Amsterdam Bar (raj), Badgasse 7, Klagenfurt
Eine Mischung aus kraftvollem und granitischem Rock Blues mit Funky, Soul und Country Einflüssen, typisch für die Bands der Siebziger, aber modern und sehr energiegeladen zugleich.
Anthony Basso - guitar, vocal
Simone Serafini - bass
Ian Zavan - drums
EINTRITT FREI !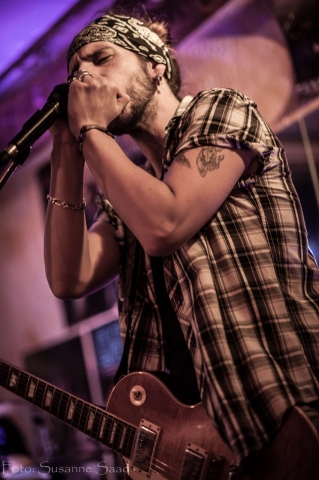 Geister und Erinnerungen an Giganten aus der Vergangenheit wie Jimi Hendrix, Stevie Ray Vaughan, Cream, Led Zeppelin, The Allman Brothers Band, Sly & The Family Stone können bei diesem Live-Auftritt gehört werden, aber in einem modernen Schlüssel neu interpretiert und ohne den " Songformel ", die Anthonys Schreibstil charakterisiert und den Spuren von Songwritern wie Bob Dylan, Van Morrison, Bob Seger oder Bruce Springsteen folgt.
Anthony Basso steht für eine neue Generation von Künstlern, die Gefühl, Leidenschaft und Freude an der Musik groß schreiben können.
Der Rocksound seiner Band mit gefühlvollen Wurzeln zeigt Liebe und Hingabe für die Musik, die bei diesem Konzert komplett zu hören ist und dem Publikum eine explosive Live-Performance voller starker und sehr emotionaler Momente präsentiert!