Sangoma Session #8
Datum: Fr, 02.06.2017 um 20:00
Veranstalter: Verein Innenhofkultur
Ort: raj, Badgasse 7, Klagenfurt
This is a party based on mutual respect and transcultural love!
ENTRY 5 EURO // FREE ENTRY FOR REFUGEES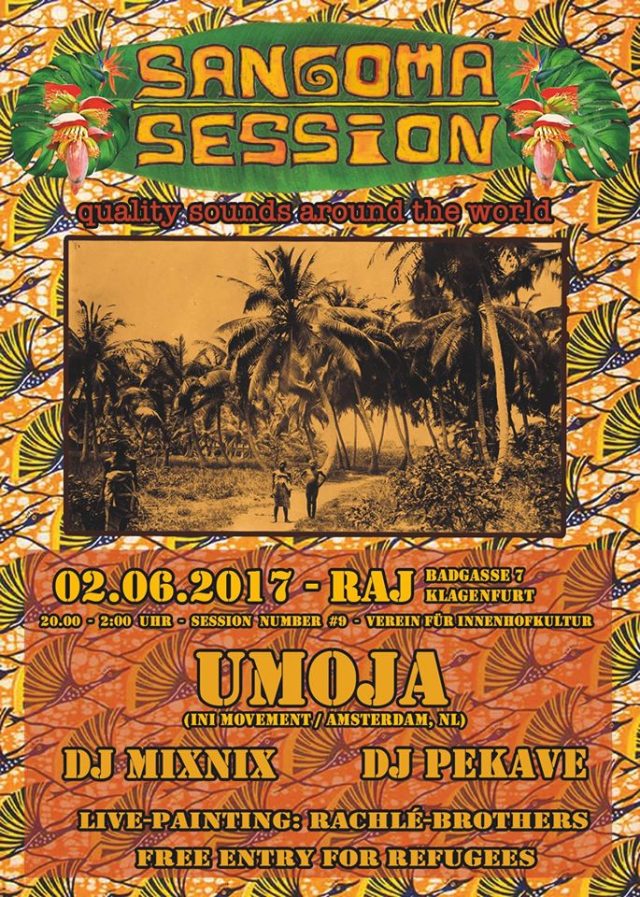 after the last trip into deep oriental spheres we set the controls for a hip-shaking summer edition of tropical heat in session #9.
once again we take you with us on a trip to the sweeping rhythms and resistless grooves of africa and its widespread global influences.
This time we have two super experienced pilots operating us through the pan-african land of music and beyond:
The sunshine duo from the rainy Netherlands, UMOJA, is an organic evolution between two humble groove aficionados whose paths crossed over half a decade ago. They are dedicated to combine electronic productions with a perfect understanding of world rhythms. Their music presents an expression of their love for experimentation with African,South American and exotic traditions..
Don't miss out on a full musical experience of culture, roots and dance with nothing but positive vibes!
flight attendants: DJ MIXNIX and Pekave
live-painting: Rachlé-Art
check-in is from 20:00h – be there early enough to make sure you don't miss the flight and find yourself left behind at the gate..
see you on the airstrip towards sunshine,
your sangoma-airlines crew!