RADIO ERIAN XL – THE ART OF THE 7eptett – 20.30
Datum: Mo, 29.04.2013
Veranstalter: Verein Innenhofkultur
Ort: raj, Badgasse 7, 9020 Klagenfurt
Daniel Nösig (tr) | Martin Gasser (alt sax) | Michael Erian ( ten sax) | Philip Fellner (trb) | Rob Bargad (piano) | Milan Nicolic (bass) | Klemens Marktl (dr)

special covercharge: € 10 und € 5 für MusikstudentInnen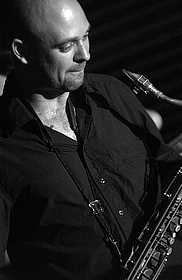 Die Fortsetzung des monatlichen Zyklus!

"Radio Erian XL"
"sendet" einmal pro Monat live aus dem raj. Diese
Formation versteht sich als "Working Band" und präsentiert seine Entwicklung ab
jetzt regelmäßig.
.Es ist nicht das "Klassische Quartett " und noch
nicht "Big Band".
Irgendwo dazwischen bietet diese Besetzung eine große Palette
an klanglichen Möglichkeiten.
Die Septettbesetzung im Jazz zu erforschen und
kompositorisch wie spielerisch auszuloten ist der Ausgangspunkt.
Michael Erian
Master of Music – Saxophon/Jazz
-Aufgewachsen
im Kärntner Gurktal.
-1991
Diplom am Kärntner Landeskonservatorium
-2000
Master of Music am Royal Conservatory in Den Haag
-Seit
2002 Professor für Jazz Saxophon am Kärntner Landeskonservatorium.
-Seit
2009 Leiter der Fachabteilung " Jazz- und Popularmusik" am Kärntner
Landeskonservatorium.
CD
Aufnahmen mit:
Rob
Bargad, Jimmy Cobb, Klemens Marktl, Renato Chicco, Flip Philipp, Primus Sitter, Daniel Nösig, Aladar Pege,
Erich Kleinschuster, Concert Jazz Orchestra, Wolfert Brederode, Karen Asatrian,
Erich Bachträgl, Tonc Feinig, Anette von Eichel, Hamlet & his Latin
Experience, Arnulf Ochs, Lee Harper, Trio Süd, Kristjana Stefansdottir, Trio
Süd, Criss Cross, Jakob Frandsen, Projekt Fusion (Alte Musik und Jazz),
Roberto Magris,….
Eigene
Projekte: Couch Ensemble, Radio
Erian, Alpen Adria Jazz Ensemble, Johnson 3