one day before NEW ADITS – "A" Trio | Villa For Forest
Datum: Di, 12.11.2019 um 20:00
Veranstalter: Verein Innenhofkultur
Ort: Villa For Forest, Viktringer Ring 21, Klagenfurt
Mazen Kerbaj: trumpet
Sharif Sehnaoui: acoustic guitar
Raed Yassin: double-bass
Eintritt: € 15 | Behinderte und StudentInnen € 8
Verein Innenhofkultur | Villa For Forest | Kooperationspartner Riedergarten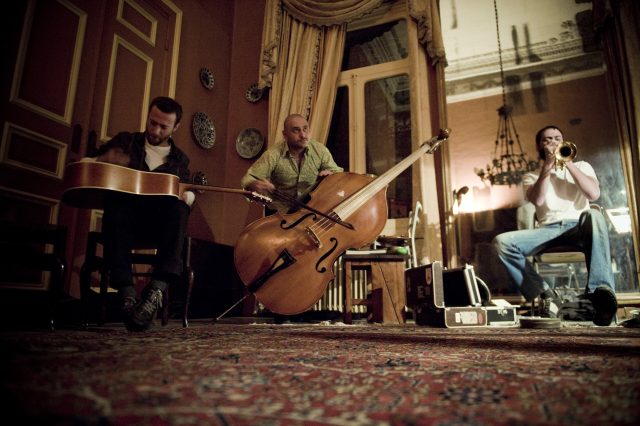 "A" Trio is probably the oldest Lebanese improv group. Formed in 2002 for a concert during "Irtijal'02", they went on to record the first free jazz CD to be produced in the arab world ("A", La Cédéthèque, 2003). Their music later moved away from its jazz roots towards a more textural approach, relying strongly on prepared & extended techniques for a heavy diversion of their respective instruments. After a decade of working together in trio and various other contexts, Kerbaj, Sehnaoui & Yassin have finally reached a very caracteristic sound that has prompted one Swedish journalist to say "this is textural swing!". Creative yet simple, acoustic yet powerful, their live performances are very playful and rely on a strong visual component.
In 2012, and for their 10th anniversary, the "A" Trio will finally release its second album on their own label: Al Maslakh records.
"A" Trio has widely toured in Europe and the USA, performing in festivals such as "Skanu Mesz" in Riga, "Club Transmediale" in Berlin or "Météo" in Mulhouse.
Individually, Kerbaj, Sehnaoui and Yassin are three of Lebanon's most active musicians, organizing the "Irtijal" international festival since 2001 and running two record labels: "Al Maslakh" devoted to "publish the un-publishable" on the Lebanese musical scene. And "Annihaya", that focuses on sampling, recycling and the displacement of various aspects of popular culture.
The "A" Trio has so far collaborated with: folk singer/musician Alan Bishop, improv pioneers AMM, Lebanese punk-rock band Scrambled Eggs, Turkish free jazz band KonstruKt, French poet Patrick Dubost as well as various musicians including Michael Zerang, David Stackenas, Martin Kuchen, Georg Wissel & Tony Buck
More info @
www.kerbaj.com
www.sharifsehnaoui.net
www.irtijal.org
www.almaslakh.org
www.annihaya.com
DISCOGRAPHY:
"Gently Jenny", Unrock, w/ Alan Bishop, Germany, 2016 – 7"
"Burj al Imam", Unrock, w/ Alan Bishop, Germany, 2016 – Vinyl
"Burj al Imam", Annihaya, w/ Alan Bishop, Lebanon, 2015 – CD
"Live in Nickelsdorf", Roaratiorio, USA, 2013 – Vinyl
"Music to Our Ears", Al Maslakh Records, Lebanon, 2011 – CD
"Beach Party at Mirna El Chalouhi", Scrambled Eggs & "A" Trio, Johnny Kafta's Kids Menu, Lebanon, 2010 – CD
"Beirut/Ystad", w/ Various groups, Olof Bright, Sweden, 2008 – CD
"A", Kerbaj/Sehnaoui/Yassin, La CDthèque, Lebanon, 2003 – CD
"A" TRIO CONCERTS:
August 28 2015 (w/AMM) @ Villa Elizabeth, Mikromusik, Berlin, Germany
December 16 2014 (w/Alan Bishop) @ 100Copies Music Space, Cairo, Egypt
December 1 2013 @ Ausland, Compass Festival, Berlin, Germany
October 1 2013 @ Bunker Ulmenwall, Bielefeld, Germany
September 28 2013 @ Kunsthochschule fur Medien, Frischzelle, Cologne, Germany
September 13 2013 (w/Alan Bishop) @ Metro Al-Madina, Beirut, Lebanon
March 25 2013 @ Stadtgarten, Cologne, Germany
March 24 2013 @ Haus der Berliner Festspiel, Maerzmusik, Berlin, Germany
March 12 2013 @ Beirut Art Center, Beirut, Lebanon
July 23 2012 @ Celeste, Vienna, Austria
July 21 2012 @ Jazzgalerie, Konfrontationen'12, Nickelsdorf, Austria
April 11 2012 (w/Tony Buck & Georg Wissel) @ Al Madina Theatre, Irtijal'12, Beirut, Lebanon
February 9 2012 (w/ KonstruKt) @ Borusan Muzik Evi, Istanbul, Turkey
August 25 2010 @ Noumatrouff, Météo – Mulhouse Music Festival, France
March 21 2010 (w/ Patrick Dubost) @ Bustros Palace, Beirut, Lebanon
August 14 2009 @ Freikeh Theater, Freikeh Festival, Lebanon
January 06 2009 @ Théatre Monnot (ACT), Beirut, Lebanon
October 03 2008 @ TNT, "Urgent Liban!", Bordeaux, France
October 02 2008 @ TNT, Les Rendez-vous des Terres Neuves, Bordeaux, France
October 13 2007 @ Pavilion Multifunctional , Jazz & More, Sibiu, Romania
May 16 2007 @ Nationalgalleriet, Stockholm, Sweden
May 15 2007 @ Vastavirta, Tampere, Finland
May 14 2007 @ Huoneteatteri, Jyveskyla, Finland
May 13 2007 @ Kuudes Linja,Helsinki, Finland
May 12 2007@ Andrejsala, Skanu Mesz, Riga, Latvia
February 16 2007 @ Renaissance Society,Chicago, USA
February 05 2007 @ Overtoom 301,Amsterdam, Netherlands
February 04 2007 @ TAG,The Hague, Netherlands
January 31 2007 @ Maria am Ostbahnhof,Club Transmediale, Berlin, Germany
January 12 2007 @ Théatre Monnot (ACT), Beirut, Lebanon
February 11 2004 @ CCF,Damascus, Syria
April 06 2003 @ Espace SD,The Spring Meetings, Beirut, Lebanon
August 18 2002 @ Théatre de Beyrouth, Irtijal'02, Beirut, Lebanon