Joe Magnarelli and the UPSTATE 5tet
Datum: Mo, 27.11.2017 um 20:00
Veranstalter: Verein Innenhofkultur
Ort: raj, Badgasse 7, Klagenfurt
Rob Bargad, piano | Michael Erian, sax
Klemens Marktl, drums | Francesco Angiuli, bass
Special Guest: Joe Magnarelli, trumpet & flugelhorn
Eintritt: € 15 | 12 | Alle StudentInnen € 8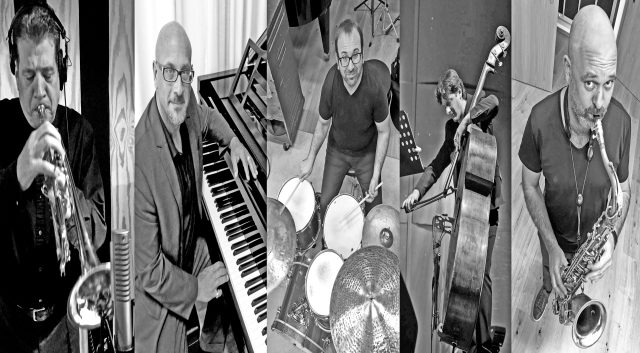 JOE MAGNARELLI
www.joemagnarelli.com
Syracuse, New York native Joe Magnarelli moved to New York City in 1986 and soon became a regular on the New York and international Jazz scenes. In 1987, Joe began touring and recording both with the Lionel Hampton Orchestra and with Hammond Organ legend Brother Jack McDuff. Joe's early career also included touring and recording with Toshiko Akioshi, the Glenn Miller Orchestra, Harry Connick, Jr. and the Hard Bop Quintet.
From 2003-2006, "Mags" performed with Latin-Jazz maestro Ray Barretto and his New Sextet, recording on Barretto's CD, "Time Was, Time Is" which was nominated for a Grammy Award. Joe has worked and toured with so many Jazz greats, including the Vanguard Orchestra, Jane Monheit, Jon Hendricks, Jimmy Cobb, Louis Hayes, Alvin Queen, Dado Maroni, Tom Harrell Big Band, George Gruntz, Harry Whitaker, Walt Weiskopf, Grant Stewart, Charles Davis, Nick Brignola, JR Monterose, Gary Smulyan, The Carnegie Hall Orchestra, Don Sebesky, Aretha Franklin, Rosemary Clooney, Joe Williams, Michael Feinstein, and the Lincoln Center Jazz Orchestra.
"Mags" has recorded nine CDs under his own name, and has played on numerous Jazz dates as a sideman. His debut as a leader was 1994's "Why Not" (Criss Cross). He followed that excellent album with three others on the Criss Cross label: "Always There" (1997), "Mr. Mags" (2000) and "Hoop Dreams" (2005). He subsequently released "Persistence" (2007) and "My Old Flame" (2010), his first big band recording as a leader. He also made two albums co-leading a sextet with the legendary Philadelphia trumpeter John Swana: "Philly-New York Junction" (1998), and "New York-Philly Junction" (2003).
Joe is currently Adjunct Professor of Music at the Juilliard School of Music and at Rutgers University. He conducts clinics and master classes around the world, sharing his musical experience and passing on the knowledge taught to him by such world renown educators as Jack Palmer, Sal Amico, Tommy Turrentine, James Moody, Garry Dial, Arnold Jacobs, and William Vachianno.
This exclusive concert with the UPSTATE 5tet is Joe Magnarelli's first guest appearance at raj. Also joining this great band is the award-winning Bologna bassist, Francesco Angiuli.
UPSTATE 5tet featuring:
Rob Bargad, piano
Michael Erian, sax
Klemens Marktl, drums
Francesco Angiuli, bass
Special Guest:
Joe Magnarelli, trumpet & flugelhorn