MMKK – Ausstellungseröffnung – DJ Barry Bahia & Drinks
Datum: Do, 22.03.2007
Veranstalter: MMKK
Ort: MMKK Museum Moderner Kunst Kärnten, Burg-Domgasse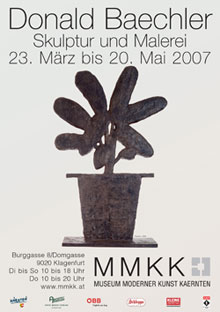 Eröffnet wird:
# Donald Baechler, Skulptur und Malerei
# Blickwechsel No. 3 aus d. Sammlung, Kunstankäufe 05/06
# Berlinde De Bruyckere, Der Schmerzensmann
Gespielt wird:
# on turntables DJ Barry Bahia
Getrunken wird:
# Gimlet
# Bellini
# Wörtherseewasser
# Wein, Bier und Mineral
Das MMKK zeigt erstmals in Europa eine umfangreiche Werkschau des amerikanischen Malers und Bildhauers Donald Baechler. Baechler, Jahrgang 1956, konzentriert sich in seinen Arbeiten auf ein überschaubares Repertoire von symbolhaften Motiven, die er aus unterschiedlichen Kontexten herausfiltert und in einer ihm eigenen künstlerischen Ausdrucksform umsetzt. Die Offenheit in seinen Arbeiten kommt dem Blick unserer Zeit sehr entgegen und lässt jede Annäherung an sein Werk zu einer interessanten Begegnung werden.
For the first time in Europe the Museum of Modern Art Carinthia features a comprehensive exhibition by the renowned American artist Donald Baechler. In his work Baechler, born in 1956, concentrates on a few symbolic motifs which he selects from varying contexts and interprets in his unique way. The openness of his objects relates well to modern times and makes engaging with his art an interesting experience.
Blickwechsel No. 3 aus der Sammlung, Kunstankäufe 05/06
In der Reihe blickwechsel präsentiert das MMKK in regelmäßigen Abständen die Kunstankäufe des Landes Kärnten. Der Fokus liegt vor allem auf neuen Positionen junger Kärntner KünstlerInnen, die allesamt einen repräsentativen Überblick über das aktuelle heimische Kunstgeschehen geben.
In the exhibition blickwechsel No.3 the Museum of Modern Art Carinthia presents at regular intervals the newly purchased art works of the provincial collection. The focus is mainly on new art trends by young Carinthian artists which together provide an impressive and comprehensive overview of the regional art scene.
Berlinde De Bruyckere, Der Schmerzensmann
Die international renommierte belgische Künstlerin, Berlinde de Bruyckere, Jahrgang 1964, bespielt mit einem überlebensgroßen Schmerzensmann die Burgkapelle. Die Künstlerin versteht es, traditionelle sakrale Themen in eine zeitgenössische, oft fragmentarische Formensprache höchster Eindringlichkeit zu übertragen. Der Schmerzensmann als ikonographische Skulptur reicht bis ins Mittealter zurück. Im Ambiente der barocken Burgkapelle entfaltet diese Skulptur eine außerordentliche Wirkung.
The internationally renowned belgian artist, Berlinde de Bruyckere born 1964 presents her sculpture Der Schmerzensmann in the art space Burgkapelle of the Museum of Modern Art Carinthia. In her work she translates an ecclesiastical theme into a compelling figure that suggests a distorted and fragmented human being. The 'Man of Sorrows' refers back to medieval iconography and creates an overwhelming impression in the surroundings of the baroque chapel.