MIDDLETON – JUKIČ – MARKTL
Datum: Mo, 30.05.2011
Veranstalter: Verein Innenhofkultur
Ort: raj, Badgasse 7, 9020 Klagenfurt
Andy Middleton - sax

Robert Jukič - bass

Clemens Marktl - drums

€ 12 | 10 | 6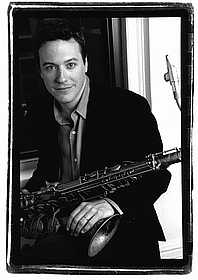 ANDY MIDDLETON
Saxophonist, Composer
Email: andy.middleton@chello.at
http://www.andymiddleton.com
http://www.myspace.com/andymiddletonjazz
"… an accomplished composer as well as a smart post-bop tenor saxophonist."
The New York Times
"A saxophonist with patient poise on the slow ones and fierce resolve on the fast
ones." The Village Voice (New York)
"… solos that demonstrate the absolute mastery of his saxophones, in emotional and
technical terms. Every note hits the mark, but also reveals the notable feature of
leadership, that nothing is done halfway." All About Jazz Italy
"A musician's musician, just like it says in books. The American living in Vienna spins
fascinating webs of improvisation with long, drawn-out and intense melodies on the
tenor saxophone that place him at the top of the international saxophone scene.
Great music." Jazzthing (Germany)
___________________________________________________________
Andy Middleton has long been considered by critics and his peers to be one of the
world""s top-tier jazz saxophonists. While a technically masterful player, Middleton""s
solos have rather been noted for their power of inspired imagination, rhythmic drive,
lyricism and adventurous energy. Likewise, his compositions are both harmonically
modern and lyrical with a clear sense of the tradition. Middleton's unique voice as
both a player and a composer/arranger has led jazz icons such as Dave Holland,
Kenny Wheeler and Ralph Towner to record and perform with him. He has also
performed/recorded with Maria Schneider, Renee Rosnes, Randy Brecker, Bill
Evans, Lionel Hampton, Bob Mintzer, Joey Calderazzo, John Abercrombie and Adam
Nussbaum.
Born in Harrisburg, PA, Andy received his masters degree in composition at the
University of Miami. After nearly 20 years in the New York jazz scene, he relocated
to Vienna, Austria in 2006.
___________________________________________________________
MUSICIAN QUOTES ABOUT ANDY MIDDLETON
DAVID LIEBMAN: "Andy Middleton represents the best of a new generation of jazz
musicians."
MICHAEL BRECKER: "Here is the sax player with the courage to pursue his own voice.
Here is improvising and writing in its best form – really pretty amazing!"
JOHN ABERCROMBIE: "Totally contemporary playing and writing with a real sense of the
jazz tradition. Excellent!"
RANDY BRECKER: "Andy Middleton is one of the strongest tenor and soprano saxophonists
on the scene. Check him out!