MARK RAPP QUARTET
Datum: Sa, 04.06.2016 um 20:30
Veranstalter: Verein Innenhofkultur
Ort: raj, Badgasse 7, Klagenfurt
Mark Rapp (trumpet), Gabriel Moraes (guitar)
Marijn Van de Ven (bass), Klemens Marktl (drums)
Eintritt: € 12 | Studierende & SchülerInnen € 6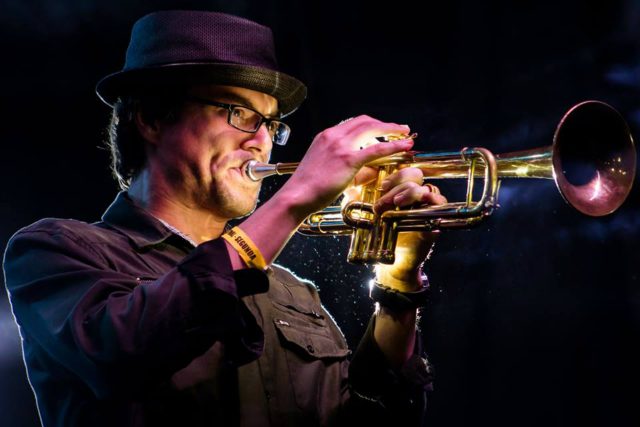 "Rapp has his own way of defining jazz, which keeps its standard principles while delving into the experimental side."
– JazzTimes
"Rapp is willing to tackle the history of this music with his eyes on the past and his mind on the present and future of this music."
– AllAboutJazz.com
"One can't help but sense a distinct identity to Rapp in both his composing and playing and for this reason, we will be hearing a lot more from him."
– Jazz Improv NY Magazine
The inventive American trumpeter Mark Rapp is debuting his new quartet in 2016 accompanied by trailblazing musicians who live in Austria: Gabriel Moraes (guitar) , Marijn Van de Ven (bass) and Klemens Marktl (drums) . The repertoire consists of tracks from his many albums and brand new unreleased music.
_______________________________
ABOUT MARK RAPP
Mark Rapp (http://markrapp.com) is a distinguished trumpeter, composer, arranger, didgeridoo player, recording and touring artist and has performed with such distinct artists from Delfeayo & Branford Marsalis to country star Darius Rucker to bossanova legends Roberto Meniscal and Wanda Sá . Rapp has released 6 diverse recordings and is a featured artist alongside Dave Brubeck, Roy Hargrove, Esperanza Spalding, The Bad Plus, and Joshua Redman on Disney's "Everybody Wants to be a Cat" CD. Rapp's celebrated 2009 debut release "Token Tales" (Paved Earth Music), earned him a spot as a "Top Emerging Trumpeter" in Downbeat Magazine . His release "Good Eats" (Dinemec Jazz) had critics saying, "Rapp is quickly developing a reputation as a superb interpreter and great stylist."
AllAboutJazz.
com . Rapp is a featured artist in Mellen Press' "How Jazz Trumpeters Understand Their Music" among a prestigious list including Terence Blanchard, Lew Soloff, Freddie Hubbard, Tim Hagans, Dave Douglas and more. Rapp also composed an original jazz ballet "Woven: Life in Notes and Steps" (http://wovenballet.com) .
_____________________________________________
PERFORMANCE EXPERIENCE
Mark Rapp performs in jazz clubs around the world from Dizzy's Jazz at Lincoln Center (NYC), Snug Harbor (New Orleans), Blue Note (NYC), The Jazz Standard (NYC), Yoshi's (San Francisco), Blues Alley (Washington, D.C.), Jazzland (Vienna, Austria), AMR (Geneva, Switzerland), Clube do Choro (Brasilia, Brasil) to Jazz Tunnel (Zagreb, Croatia). Mark Rapp has played jazz festivals around the world from the JVC Newport Jazz Festival, Fillmore Jazz Festival, New Orleans Jazz & Heritage Festival, WC Handy Festival, Festival AMR des Cropettes (Switzerland), JazzTimes Festival in Croatia to the Jazz&Blues Festivals in Garanhuns, Pipa and Gravatá, Brazil. Mark has been guest soloist with Big Bands, recorded as a special guest artist on CDs, played in the United Nations Symphony Orchestra, and has had many jazz greats perform in his bands including bassist James Genus (Herbie Hancock, Brecker Brothers, Saturday Night Live, Aretha Franklin), Walter Blanding, Jr, Don Braden, Wycliffe Gordon, Nate Smith, Clerence Penn, Wess "Warmdaddy" Anderson, Gerald Clayton, Don Braden, Delfeayo Marsalis, et al.
MARK RAPP MEDIA
Download and share performance videos, photos, mp3 and more here:
http://markrapp.com