KAREN ASATRIAN & armenian spirit
Datum: Sa, 26.11.2005
Veranstalter: Verein Innenhofkultur
Ort: Künstlerhaus Klagenfurt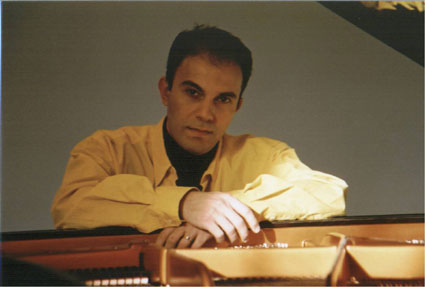 Wolfgang Puschnig_sax, bamboo flute, zurna
Ali Gaggl_vocals
Juan Carlos Sungurlian_oud, bouzouki, guitar
Karen Asatrian_piano, keyboards, vocals
Wolfram "woofy" abt _bass
Ismael Barrios_percussion
Reinhardt Winkler_drums
Einmal im Leben ist der Punkt erreicht: Da schlagen die innersten Wurzeln durch. Auch bei Jazz-Pianist und Komponist Karen Asatrian. Nach allen Aufträgen, allen musikalsichen Spaziergängen durch die Stillandschaften und Genres ist er auf dem "Pathway", dem schmalen, einzig begehbaren Grat, "der aus der Dunkelheit an einen sicheren Platz führt". Asatrian als Armenier weiß wovon er schreibt – und auf dieser CD auch singt. Der Genozid an seinem Volk, das Leiden, das in den Genen überlebte, aber auch die Lebensfreude – das alles packt er mit traditionellen und jazzigen Mitteln in ein Bekenntnis zur Musik, zur Liebe und zum Frieden. Ein Bekenntnis zum schmalen Pfad, der zu Verständnis, Frieden und Gleichheit führen kann.
Musikalisch ist es eine absolute Visitenkarte: Da bin ich, das steckt in mir. Dieses gilt sowohl für die Rhythmen und Harmonien, als auch für den Atem, den jeder Sänger "hergibt". Mit verwirklicht hat das Porjekt ein interessantes Line-up-Gemisch aus unterscheidlichsten Nationen – und ausnahmslos hochkarätigem Musikern. Beim Cross-Over aus armenisch-traditionellem und Jazz begleiten Asatrian auf dem "Pathway" Wolfgang Puschnig, Ali Gaggl, Juan Carlos Sungurlian, Woofy Abt, Ismael Barrios und Reinhardt Winkler.
Auf dem Ararat – da landete die Arche Noahs. In Erewan (Armenien) sieht diesen Berg jeder, fast von jeder Ecke aus. Asatrian Karen kommt aus Erewan. Auf seinem persönlichen Ararat ist er nun musikalisch gelandet. Hier, in Österreich landet jetzt musikalisch das auf der Bühne, was schon längst durch seine Gedanken segelte. Hier hat er die Musiker endlich gefunden, die Besatzung für seine musikalische Arche.
Und wie es sich für eine Arche gehört, gibt es aus jeder Ecke der Welt Musiker an Bord: aus Argentinien, aus Uruguay, aus Österreich (Kärnten, Steiermark) und – natürlich aus Armenien.
Mitgenommen hat Asatrian auf seiner suchenden Reise durch die Zeit Erinnerungen aus der armenischen Kindheit: Volksmusik, die in seinen Knochen lagert. Was von außen dazukam – ob Jazz oder anderes – hat er nun zusammengeschweißt.
Musik ist das Grundelement seines Lebens, mit dem er versucht, seine wichtigsten Werte zu vermitteln: "Liebe, Respekt und Wahrheit". Karen´s Originalkompositionen interpretieren den Sound vergangener Generationen durch das heutige Leben:
das Ergebnis nennt er "Avantgarde-Folk".
Sieben Musiker, eine magische Zahl – wie sich eben für Legenden gehört:
Am Schnittpunkt zwischen Orient und Okzident, zwischen Gestern und Jetzt, zwischen traditionellem Hören und heute Spielen.
Es ist ja nicht so, dass die Musikwelt nicht bereits armenischen Klang kennt (man denke an Arto Tuncboyaciyan oder George Avakian, den Produzenten, der mit Miles Davis, Ellington und Brubeck zusammenarbeitete). ….
Mit "Armenian Spirit"" kommt eine neuen Nuance ins Spiel: Karen´s manchmal etwas melancholischen, häufig aber mitreißend fröhlichen Lieder werden sowohl auf traditionellen armenischen wie auch jazztypischen Instrumenten gespielt und bestechen oft durch unwiderstehliche Grooves. .
"Ich setze mich nicht nieder, um Musik zu schreiben. Die Musik, die ich spiele, ist der Sound meines Lebens. Etwas passiert: Etwas Gutes, oder etwas Schlechtes – und inspiriert mich. Und wenn Musik der Klang deines Lebens wird, wird dein Leben – Musik."
Lebenslauf Karen Asatrian
Geboren 23 Juni 1972 in Eriwan, Armenien
Ausbildung
1978-1989: Studium für klassische Geige und Klavier an der Tschaikowsky Musikfachschule.
1989-1994: Studium für Geige, Klavier und Komposition an der Komitas Musikhochschule
der Stadt Eriwan.
1995-1999: Weiteres Studium Jazzklavier am Kärntner Landeskonservatorium.
Klasse Dr. Prof. Harry Neuwirth
1999: Diplom mit Auszeichnung.
1999-2001: Studium für Studienrichtung Instrumental (Gesangs-) Pädagogik die
Lehrbefähigung für Klavier-Jazz.
2001: Staatliches Lehrbefähigungszeugnis mit ausgezeichnetem Erfolg.
Musikalische Laufbahn und Projekte:
• Mitglied bei der Band "Grind 6".
• Mitglied des Primus Sitter – Quartett.
• Gründer der Gruppe "timless brahms" (Jazz trio mit Kammer Orchester).
• Gründer der Gruppe "armenian spirit" (avantgarde folk).
• Mitglied der Jazzgruppe "Primus Sitter Five".
• Zusammenarbeit mit dem Kärntner Madrigalchor und Aufführung der
Eigenkompositionen.
• Zusammenarbeit mit dem "Bruckner Symphonieorchester".
• Lehrtätigkeit beim Musikforum Viktring, Musikcamp der Stadt Villach, dem
Musikworkshop in Wolfsberg.
• Engagement am "Wiener Burgtheater".
• Derzeit Dozent in Universität für Musik und Darstellende Kunst Wien, und am Kärntner Landeskonservatorium.
Auftritte:
• Auftritte bei Three Nights of Jazz.
• Aufführung von Werken J. Brahms in eigenen Arrangements unter Einladung der Johannes Brahms Gesellschaft.
• Zahlreiche Studioproduktionen und Auftritte auf Bühne, Rundfunk, TV mit
diversen Jazzformationen in Österreich, Italien, Deutschland, Niederlande,
Slowenien, Armenien….
Karen Asatrian Völkermarkterstr. 134 A-9020 Klagenfurt Tel. +43 463 340144 Mobil. +43 650 3300144
e-Mail: k.asatrian@aon.at
Karen Asatrian & Armenian Spirit – "Pathway"
All compositions by karen asatrian
Except "longa nakris" (oriental traditional) by Juan Carlos sungurlian
"River song" by Juan Carlos sungurlian / karen asatrian
"Surb Tiramayr" (Armenian traditional)
Background vocals:
karen asatrian
juan carlos sungurlian
wolfgang puschnig
franz sommer
PRODUCTION CREDITS
Producer: Karen Asatrian, Wolfgang Puschnig
Executive Producer: Karen Asatrian
A&R, Release Coordination: Harry Gruber
Recorded by: Stefan Benkö
In Vienna, Austria
Mixed and Mastered by: Franz Sommer at: Franks Cave
Art Direction and Design: Musho Garoukian
Studio Photography: Wolfgang Grossebner
*Why Pathway???
Pathway is a thin track that lies through the impenetrable forest, the way is full of obstacles, ordeals and temptation, but it is the only way out of darkness that can bring us to a safer place.
The 20th century has brought in slaughter, annihilation and atrocity to the world. There have been too many wars and genocides during the 20th century. The world commemorates the beginning of the 20th century's first genocide- the Armenian Genocide. The beginning launched by the words of the Ottoman Turkish leader; "Kill every Armenian woman, child and man without concern for anything…." The great bulk of the Armenian population was killed for being an Armenian, Women and children were abducted and horribly abused.
However, as a matter of policy, the present-day Republic of Turkey, and many other countries adamantly deny that genocide was committed against the Armenians during WW I. The non-punishment of this crime facilitates other wars, terrorist actions and to other genocides such as the Holocaust. Adolf Hitler said before sending his troops into Poland, "Go, go kill without mercy. Who today remembers the extermination of the Armenians?"
Today we more often hear of terrorist actions around the world. The way to fight terrorism requires people's realization of their significant impact and the role in the world. I hope this CD will help to accomplish this.
We are walking the way full of disasters, violence and terrorism; we should find the PATHWAY, a pathway that can take us out from that way and leads to mutual understanding, peace and equality.
David of Sasun
Armenian medieval epic "David of Sasun" is created in the 8-10th centuries during the heroic struggle of Armenian people against of the Arabic despotism. The folk novel's ideological and artistic embodiment is David from Sasun; an Armenian historical region. In its character, the people have embodied the whole Armenian nation with its beauty, nobleness, kindness, and justice.
** "Sasna Mher"
Mets Mher or Sasna Mher is David's father, one of the epic heroes. He proves to be a prodigious man; mighty, strong, innocent and fair like a child. At age 15 Mher tracks the lion and kills it bare-handed, and the people of Sasun acclaim him as their king. He was given the horse Jalaly, the Lightning Sword (Tur Ketsaki), and his father's war gear. These war gears were passed from generation to generation.
SPECIAL THANKS
First and foremost I would like to thank God for giving me the gift of music and blessing me with a loving family and friends.
Next my thanks go to Wolfgang Puschnig, Ali Gaggl, Juan Carlos Sungurlian, Wolfram "woofy" Abt, Ismael Barrios and Reinhardt Winkler for their support of my initial ideas about our music and for their creative and unreserved playing. All those ideas would have come to nothing without these fine artists bringing all that life to those ideas.
Special thanks to Harry Gruber for trusting in me. (man! we'll get there…..)
*** "garnanayin etude" (Spring Etude) is dedicated to my friend and teacher Harry Neuwirth. Harry, I can play in all 12 keys!!!! (-:
And of course thanks to everyone, who were all the time with me; to my cousins Emma Asatryan and Marine Galstyan, to Arthur Asatryan (man! you help me always, and you are still doing that…), to Josef Koch, to Thomas Hocke.
To my parents Laura and Gevork, to Nelli, to my wonderful wife Anna (I love you baby!!!)
Thank you…
Many thanks to those who helped me making this album real, which I am so proud of now. We all have been working hard, but we all had a lot of fun during the process!
And last not least to MY FANS!
Thanks for standing by me!
This recording is dedicated to my kids Erik and Zara