IAN C – Cocktails in the yard | DJ LUDWIG inside | DELTA CONCEPT 1st floor
Datum: Mi, 29.05.2013
Veranstalter: raj
Ort: raj, Badgasse 7, 9020 Klagenfurt
Hof - IAN CALLAGHAN / cocktails

Innen - DJ LUDWIG / culturegroove

Oben - DELTA CONCEPT / Yannick Steuerer, Lukas Lackner, Lan Štikar

Wieder ein Versuch, den Sommer in Gang zu bringen

Nur ein kleiner Eintritt im 1. Stock (€ 6/3) - Rest FREI !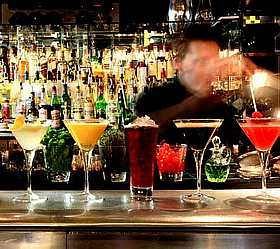 Nach jahrelanger Zusammenarbeit mit u.a. Englands besten Cocktail-men in Londons Bars, Hotels und Clubs, wird Ian einige seiner Rezepte für einen Abend im raj präsentieren.
Und Ihr Budget wird NICHT strapaziert !!
UND GLEICHZEIT IST ES DER STAMMTISCH: come as you are !
UND DJ LUDWIG von CULTUREGROOVE SORGT IM raj FÜR DEN SUPERTON !
After years working with some of the UKs best cocktail bartenders in London´s bars, hotels and clubs, Ian is going to share some of his recipes for one evening only at raj.
On offer will be a mixture of classics, reworked standards and contemporary gems which have been developed, discovered and sometimes stolen over the last decades.
Es wird eine Mischung aus Klassikern, überarbeiteten Favoriten, und modernen Edeltropfen, die über die Jahrzehnte entwickelt, entdeckt und manchmal gestohlen wurden, angeboten.
---
1. Stock – DELTA CONCEPT – 20.30
Yannick Steuerer-git
Lukas Lackner-p
Lan Štikar-dr
Eintritt: € 6 | € 3 für StudentInnen