GILAD ATZMON & THE ORIENTHOUSE ENSEMBLE_vorher Lesung
Datum: Mi, 15.10.2003
Veranstalter: Evangelische Hochschulgemeinde
Ort: Künstlerhaus Klagenfurt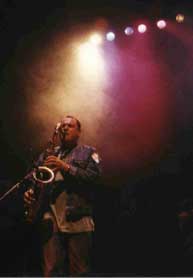 …auf der Universität Klagenfurt – um 18.30 Uhr und um 21 Uhr Konzert im Künstlerhaus Klagenfurt:
Gilad's Quartet Include:
Frank Harrison_piano
prize in the 1994 Daily Telegraph Young Jazz Competition and 2nd prize in the national finals of 1996 Young Jazz Musician of the Year.
Now plays regularly in London jazz clubs such as Ronnie Scott's with a range of musicians, including Peter King, John Etheridge, Ronnie Cuber, and Don Weller.
Yaron Stavi_bass
Yaron stavi is a jazz and Classical musician.
Born in Israel in 1975. Yaron has played often in the Israeli Jazz and Rock scene as a bass guitar player and double bass player. has studied classical double bass and played in the Young Israel Philharmonic Orchestra.
Yaron plays in classical orchestras under conductors like Sir Nevile Marriner, kent Nagano, Zubin Mehta snd more.
Asaf Sirkis_drums and bandir
Intensely involved in a variety of ethnic music, playing with various Jewish soul music groups and Middle-Eastern musicians such as Adel Salameh.
Performed and recorded around Europe with own group 'Asaf Sirkis & the Inner Noise'.
Played with Byron Wallen, John Ethridge, Christoph Spendel and many others.
GILAD ATZMON
Born in Israel on 9th June 1963
Instrument: Soprano, Alto, Tenor and Baritone Saxes. Clarinet, Sol, Zurna and Flutes.
Musical Training: Rubin Academy of Music, Jerusalem (Composition and Jazz)
Solo Albums:
* Nostalgico (2001 enja )
* Gilad Atzmon &The Orient House Ensemble (2000 enja )
* "Juizz Muzic"(1999 FruitBeard)
* "Take it or Leave it" (1999 Face Jazz)
* "Spiel- Both Sides" (1995 Mci).
* "Spiel Acid Jazz Band" (1995 Mci).
* "Spiel" (1993 In Acoustic&H.M. Acoustica).
Raised as a secular Israeli Jew in Jerusalem, Gilad Atzmon witnessed and
empathised with the daily sufferings of Palestinians and spent 20 years
trying to resolve for himself the tensions of his background. Finally
disillusioned, he moved away from Israel and went to England to study
philosophy. Yet when he met Asaf Sirkis, a drummer from his homeland, Atzmon
recovered an interest in playing the music of the Middle East, North Africa
and Eastern Europe that had been in the back of his mind for years. Atzmon
founded the Orient House Ensemble in London and started re-defining his own
roots in the light of political reality. He now regards himself as a devoted
political artist.
Gilad Atzmon's music moves more and more towards a cultural hybrid. On his
upcoming new album, "Exile" (ENJA/TIPTOE), Atzmon and his colleagues try to
tell the story of Palestine, a country that was stormed by radical Zionists
in the 20th century. Asking himself how the Jewish – who themselves have
suffered so much and for so long – can inflict so much pain on the Other,
Atzmon takes up Israeli traditional and nationalistic melodies and turns
them around deliberately. For instance, "Al-Quds" is an Arabic
interpretation of an Israeli tune that became the anthem of the '67 War.
Beside other guests (like Tunesian singer Dhafer Youssef), "Exile" features
the moving voice of Palestinian lady singer Reem Kelani. This thrilling
vocalist will also be featured in concert with the band.
As a member of the Blockheads, Gilad has recorded and performed with such as
Ian Dury, Robbie Williams, Sinead O'Connor and Paul McCartney. As a
bandleader and reed player he has been amazing his listeners with his
powerful personal style that combines great bebop artistry and
Middle-Eastern roots in a sophisticated, sometimes ironical manner. The
Observer says: "He creates his own cross cultural idiom." Jazz UK finds his
whirlwind approach "dynamic, charismatic and exasperating". This multi-reed
talent shows "a seemingly effortless ability to demolish and rebuild any old
tune he chooses to play" (Time Out). Influenced by Cannonball Adderley's
powerful approach on the sax, Gilad's live performances are simply
breathtaking and overwhelming.
Work History:
2002:
The Orient House ensample touring all over the world playing in major European festival and clubs. Recording of a new orient album EXILE (release April 2003) with the fabulous Palestinian singer Reem Kelani . Guide to the perplexed published in the UK (Serpent's Tail) The rights for Gilad's 'book were sold in: Germany. France. Portugal. Latin America, Spain, Japan, Russia, Hungary
Recorded Swift with Simon Fisher Turner (Mute Records)
Gilad plays and records with the Blockheads..
2001:
Stopped most of his activity as a session artist and focused on recording and touring with the 'Orient House Ensample'. Gilad regards the OHE as a political anti Zionist viachele. Gilad published his first book 'A Guide to the Perplexed' In Israel (Keter Publisher). The book was banned within weeks. Recorded and released of Nostalgico (2001 Enja )
Gilad continued to play with the Blockheads.
2000:
Recording with: As a member of the Blockheads recorded / performed with Ian Dury, Robbie Williams, Sinead O'Connor, Shane McGowan and many more. Recording & performing with Simon Fisher Turner, release of a new album "Gilad Atzmon & the Orient House ensemble" (ENJA Records) Performing with the ensemble in the prestigious UK festivals and stages as well as in Europe and Mid' east. Playing with Bill Le Sage's "The Be-Bop Preservation society".
1999:
Recording with Tim Richards ("Great Spirit"), Mike Scott (Water Boyes), Ian Dury and the Blockheads, Little Mothers, Simon Fisher Turner Touring with Ian Dury in the UK, Ireland and Europe, Touring With "Great Spirit". Release of a Solo Trio album 'Take It Or Leave It" ("Face Jazz"). Release of a dance EP ; 'Juizz Music' ("Fruit Beard"). Touring In the UK, Europe and Israel. Playing at Brighton, Birmingham,Grimsby Greenwich, Appleby and Coventry international Jazz Festivals.
1996- 1998:
Toured with Ian Dury & the Blockheads, In UK &Europe, Awarded HMV top Dog Award at the Birmingham Int' Jazz Festival. Writing Dance Material with DJ Face. Toured Japan with Simon Turner. Playing in the UK with prominent UK Jazz musicians including Gerard Presencer, Robin Asplaned, Jim Mullen. Appeared with his own quartet at prestigious London venues including the Barbican, Smolenski's, Pizza Express, Vortex Jazz Bar. Toured with "Jazz Africa" and Didgattack (Gail Thompson), toured with Kenwood Dennard in the Middle East, recorded with Simmon Turner. Played in Berlin , Red Sea,Greenwich International Jazz festival.
1994-1996:
Toured Israel and Europe with the "Gilad Atzmon Quartet" and "Spiel Acid Jazz Band". Played at the Red Sea Festival, Tel Aviv Jazz Blues &Videotape Int' Fes'. Played in Leipzig and Zurich open air fes' as well as Berlin, Dresden and Prauge.
Composition for modern Ballet, films and and original music for BBC Radio 4. Musical producer and arranger for Si Hyman's album 'Rendezvous' (NMC).
0000-1994:
Acted as a producer-arranger for various Israeli Dance & Rock Projects, performing in Europe and the USA playing ethnic Jewish soul music. Highly involved in the Israeli musical scene. Recording for 'Ofra Haza' (Za'l), Y. Poliker (She-ivade Lechaim Arukim) and many others. Touring with Memphis Slim and supporting many international jazz names such as Jack De Johnette, Michel Petrucciani, Richie Byrach and many others.
In his forthcoming album: 'Exile' , Gilad & The Orient House Ensemble move further towards a cultural hybrid. The band tries to remove the unnecessary barriers between Jewish and Arabic cultures. Gilad tries to emphasize the similarity between the two peoples that lived in perfect harmony for hundreds of years. The new album features the great Palestinian singer Reem Kelani and The world famous vocalist and aud player Dhafer Youssef.
Exile represents a significant
milestone in Gilad's musical career. For the album Gilad has selected musicians who live in exile, including musicians from Palestine, Italy, Romania, Britain and the Israel.
Gilad regards himself as a devoted political artist. He supports the liberation of the Palestinian people. In his writings on the issue, Gilad suggests a solution of one state for the many people based on equality and democracy. Gilad's debut novel "Guide to the Perplexed" (Serpant's Tail) explores this very option in a satirical way.
As a member of the 'Blockheads', Gilad recently recorded and performed with Ian Dury, Robbie Williams, Sinead O'Connor, Paul McCartney and Shane McGowan. Gilad also guests with "Mike Scott and the Water Boys" and many more.
————————————————————————
".a master of dynamics and the slow-build, mixing lyricism with hoarse, Coltranesque squalls, a combination for which he would have a formidable international reputation as a soloist alone. But his self-appointed mission to restore to jazz a cultural-political clout it had in the first bop era and in the free-jazz of the 1960s makes him something considerably bigger. John Fordham, Cd of the week, The Guardian
"A formidable improvisational array…a local jazz giant steadily drawing himself up to his full height…a blast of fresh air in the UK"-John Fordham, The Guardian
"Atzmon is an astonishing musician with a seemingly effortless ability to demolish and rebuild any old tune he chooses to play."-John Lewis, TIME OUT
"Jazz in the '50s and '60s was inextricably linked to the Civil Rights Movement in the US; and the music of Israeli-born reeds-playing genius, Gilad Atzmon, is similarly enmeshed with the struggles of the Palestinian people" -Joe Cushley , What's On
"A revelation, a multi-reed man of enormous talent."-Tony Richards Musician Magazine
"Atzmon sends his soprano sax and clarinet soaring over complex rhythms
from all points of the globe with a poetry that never forfeits control."- Nina Caplan, Metro
"Audiences are clearly bowled over with Atzmon's whirlwind
approach…dynamic, charismatic and…exasperating!"-Brian Blain, Jazz UK
Kristallnachte Ramallah
Outside the blinded school
A tank squats like a toad
On a jewelled carpet
Of broken glass,
Its one open eye,
The gun barrel,
Traverses the cratered streets,
Keen as a scythe
For action.
Foetal,
At his father's side,
A boy whimpers incomprehension,
As bullets bite at the walls about.
One rips into his gut,
Leaves him twitching
In the suddenly old man's arms.
Life's sands spurt out
Of his shattered hour glass.
An ambulance stands idly by,
Parked drunkenly across upended
Paving slabs. The driver sleeps,
His body twisted oddly through the windscreen,
Half across the rust red bonnet.
Moonlight pours through bullet holes
Peppered all around the green crescent.
Hanging in the black sky,
The gunships deliberate,
Pointed rockets straining wait.
A merciless beam of light
Probes the rubble for more life
To obliterate.
Richard Jones
20th February 2003
Dedicated to Gilad Atzmon and the members of the Orient Ensemble on the
release of 'Exile', music which captures the spirit of our age .