Gerry Hemingway Quintet – 20.00
Datum: Mi, 31.10.2012
Veranstalter: Verein Innenhofkultur
Ort: raj, Badgasse 7, 9020 Klagenfurt
Oscar Noriega-cl, bcl | Ellery Eskelin-ts

Terrence McManus-git | Mark Helias-ac & el bass

Gerry Hemingway-dr

Eintritt: € 15 | 12 | 6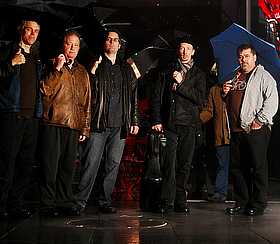 Gerry Hemingway Quintet – 2012 "Riptide"

BIG NEWS !!! The quintet has
been booked by the 2012 Saalfelden Festival and the Willisau Festival
for August 2012 – because of this – many notices, reviews, videos and
general pubicity about the group will become available prior to our fall
tour in 2012. This should help tremendously in promoting your booking
!!!
Oscar Noriega-clarinet,
bass clarinet, alto saxophone
Ellery Eskelin-tenor saxophone
Terrence McManus-guitars
(Kermit Driscoll-acoustic and electric bass ::: no, he is for a bypassoperation in hospital)
therefore
Mark Elias-bass

Gerry Hemingway-drums
The quintet has evolved from
Hemingway´s long standing compositional platform that began in 1985 with
the recording of "Outerbridge Crossing" and has enjoyed numerous
incarnations while retaining its penchant for an integrative
compositional/improvisational ensemble approach. What that adds up to is
a compositional practice that has refined a way to frame the individual
members unique sonic, interpretive and improvisational vocabulary with
pieces that are detailed, structured and rich with content. The
character of the music is multi-faceted, from coloristic subtlety to
visceral intensity, sometimes the groove is deep and other times the
rhythmic interplay is elaborate and mischievous.
The quintet will be touring material from their July 2011 release
entitled "Riptide" on the Clean Feed label as well as presenting some
re-arrangments of previous quintet material for this new instrumentation
and personnel which combines players from ongoing & previous
quartet and quintet.
Fernando Gonzales, Scott Yanow, All Music Guide
….the compositions are the star of the
show. Hemingway is going where few jazz musicians have gone before, and
he´s doing it with rare intelligence and musical sophistication. In
fact, this album is so good, I´m inspired to dust off the most hackneyed
two-word phrase in the critics lexicon: "highly recommended." Seldom
has its use been more apt."

Chris Kelsey, CounterCurrents – JazzTimes
….Hemingways opulent compositions cover a broad stylistic
spectrum, their subtle differences are always sublimated into his
singular language…..His effortless modulations between time signatures
and timbral dynamics prove endlessly fascinating, yet his surprisingly
unorthodox arrangements and idiosyncratic reinterpretations of
conventional forms are equally impressive.
–Troy Collins Point of Departure – September Issue – 2011
"Hemingways quintet is certainly capable of a multitude of moods and
genres, and altogether Riptide is a rich, unusual CD, a treasure of
sounds and rhythms and dancing lines. And Hemingway proves once again
that tradition doesn´t necessarily mean stale, witness the fresh breath
he infuses into this classic jazz lineup."

Florence Wetzl Squids Ear December 2011
Downbeat Review of previous Quartet/Quintet releases from 2/2006
Wednesday October 24 – Brest Festival, France (option – awaiting confirmation of a space – a )
Thursday October 25- – open (Follow the Sound – Antwerp – if slot opens up) – date remains open !

Friday October 26- Umeå festival option (pending budget- looks good)
Saturday October 27- Bim Huis, Amsterdam
Sunday October 28- Kulturspeicher, Leer, DE
Monday October 29- Linz, Austria
Tuesday October 30- Stockwerk, Graz
Wednesday October 31- Innenhof, Klagenfurt, Austria (possible will confirm shortly)
Thursday, November 1 – Vienna (is noted on their schedule- officially
its an option- will confirm later in June – chances are currently very
good)
Friday, November 2 – Tampere Finland festival
Saturday, November 3 – Padova, Italia
Sunday November 4 – Bern – Bee Flat (option – awaiting confirmation)