FREIBÜHNE – im 1. Stock
Datum: Fr, 05.02.2016 um 20:00
Veranstalter: Freibühne
Ort: raj, Badgasse 7, Klagenfurt
Erdgeschoss: HAUSBALL
1. Stock: FREIBÜHNE
Doch für jede(n) was !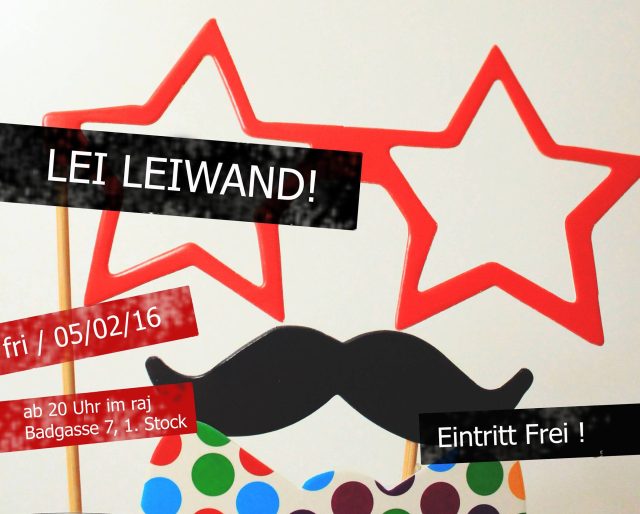 Lei Leiwand!
Mitten im Faschingstrubel wollen wir einen draufgeben. Dieses Mal geht es nur um Spaß und Unterhaltung, denn zu Kunst gehört bekanntlich keine tiefer gehende Auseinandersetzung mit gesellschaftspolitischen Themen…#sarkasmus
Kommt und unterhaltet uns, oder lasst euch unterhalten.
Egal ob Tanz, Lesung, Musik, Film, Photographie, Performance, Theater oder Improvisation, bei uns ist JEDE Art künstlerischen Ausdrucks erlaubt & erwünscht!
Also kommt vorbei und werdet Teil der Show, ganz egal ob auf der Bühne oder im Publikum. Macht was ihr wollt, nur #machtes!
ANMELDUNG: Für Mitwirkende direkt über unsere Facebook Seite oder unter freibuehne@turbotheater.at
Alles was bei ca. 20 Minuten Bühnenzeit möglich ist, wird gerne aufgenommen.
Wir freuen uns auf euch!
PS: Wer verkleidet erscheint, genießt V.I.P. Rechte!
——————————————————————————————–
It's Carneval Time – it's all just about fun! Because art never picks up criticism or examination of sociopolitics or related topics… #sarcasm
So come and entertain us, or be entertained.
Whether it is dancing, reading, music, film, photography, performance, theater or improvisation – we look forward to ANY kind of artistic expression!
WHEN: 05/02/2016 at 20:00
WHERE: Raj , Badgasse 7
ADMISSION: free!
Registration for contributors via Facebook Page or freibuehne@turbotheater.at
Everything that is possible in about 20 minutes time on stage is willingly added to our show.
PS: Who comes dressed up in a costume enjoyes beeing V.I.P.!