EXCHANGE – Portrait Ausstellung über die derzeitigen Austauschstudenten in Klagenfurt – 18.30
Datum: Mo, 10.06.2013
Veranstalter: Universität Klagenfurt
Ort: raj, Badgasse 7, 9020 Klagenfurt
StudentInnen der Universität Klagenfurt - Angewandte Kulturwissenschaften

Eintritt frei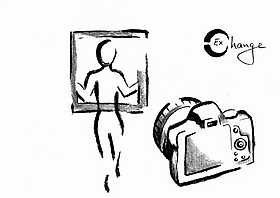 Seid ihr bereit für EXCHANGE?
Wie denken Austauschstudenten über Klagenfurt? Was sind die Beweggründe, um Klagenfurt als Ziel für sein Auslandssemester zu wählen? Was sind wohl die besten, aber auch die seltsamsten Dinge, die einem hier als Austauschstudenten widerfahren?
Diesem Thema widmen sich 6 Studenten der "Angewandten Kulturwissenschaft" in Kooperation mit dem Entrée-Team, im Rahmen ihres gemeinsamen Projekts "EXCHANGE".
Die Portrait Ausstellung über unsere derzeitigen Austauschstudenten geht den oben genannten Fragen auf den Grund und prüft Klagenfurt auf seine internationalen Qualitäten.
Dabei ist das Ziel sowohl die Austauschstudenten, als auch ihr Bild von Klagenfurt auf eine neutrale, natürliche und ästhetische Art und Weise den Leuten näher zu bringen.
Was: Portrait Ausstellung über die derzeitigen Austauschstudenten in Klagenfurt
Wo: im raj, Badgasse 7, A-9020 Klagenfurt
Wann: Montag, 10. Juni 2013 ab 18:30 Uhr
Wir freuen uns über euren Besuch!
————————————————–
Are you ready for EXCHANGE?
What do exchange students think about Klagenfurt? What are their reasons to choose Klagenfurt for a semester abroad? What are the best or the strangest moments that did happen during their exchange?
That is what six students of the cultural department, in cooperation with the team of Entrée, are trying to figure out.
The portrait exhibition about our current exchange students is dealing with the questions mentioned above and is checking out the international qualities of the city.
The goal of the exhibition is both to give the visitors an understanding of the exchange students, as well as to describe their opinion about Klagenfurt in a neutral, natural and aesthetic way.
What: Portrait exhibition about current exchange students in Klagenfurt
Where: raj, Badgasse 7, A-9020 Klagenfurt
When: Monday 10th of june 2013, beginning 06:30pm
We are looking forward to your visit!