EMIL VIKLICKÝ TRIO_Tschechien
Datum: Sa, 18.09.2004
Veranstalter: Verein Innenhofkultur
Ort: Künstlerhaus Klagenfurt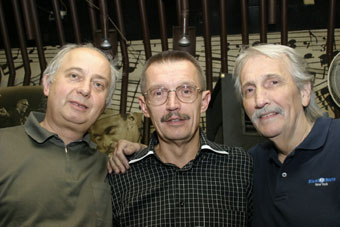 EMIL VIKLICKÝ TRIO_Tschechien
Im Rahmen unseres diesjährigen Schwerpunktes WELCOME – die musikalische Vorstellung der neuen EU-Länder – macht den Auftakt unserer 3-tägigen Reihe die Republik Tschechien:
lineup:
Emil Viklický_piano
Frantisek Uhlir_bass
Laco Tropp_dr, perc
EMIL VIKLICKÝ
went to university in his hometown of Olomouc where he studied numerical mathematics at the Natural Science Faculty of the Palacký University. Almost immediately after his Prague debut in the Hulan Jazz Sanatorium in the early 1970´s, Viklický became a key player on the Czech jazz scene. Apart from playing with his own bands, he also worked with Karel Velebný´s SHQ, the Prague Big Band, the Czech Radio Jazz Orchestra and the Super Quartet with Jiří Stivín. Emil Viklický earned significant acclaim with his very first composition,
V Holomóci městě ("In the City of Olomouc"), in 1977, presenting a remarkable synthesis of modal jazz concepts, Moravian folklore and references to the legacy of Leoš Janáček. In the late 1970´s Viklický went to the renowned Berklee College in Boston to study, developing some very valuable musical friendships in the process. Upon his return, Viklický recorded a number of albums with his new friends – prominemt American jazz musicians: A Window and A Door with the quitarist Bill Frisell.
Together, a piano duo with James Wiliams (he played with James Williams again at the beginning of this year in New York), Midgets with Joe Newman, Magic Eye with Scott Robinson, and others. Viklický´s suite, Homage to Joan Miro, recorded with the Talich Quartet adn presented also at the Prague Spring with the British multi-instrumentalist John Surman and Kyncl´s quartet, was received with equal interest both at home and abroad. Viklický´s project Ad lib, with Zuzana Lapčíková and Jiří Pavlica with whom he has already performed in Japan and the USA, is of a long term character. The latest significant achievement of Emil Viklický´s was in chamber music, where he attracted great attention with an album called Homage to Josip Plečnik, on which his compositions are performed by fa number of individual artists and formations, most notably Magdalena Kožená, Jana Boušková, Jan Adamus and the Trio Martinů.
At present, Emil Viklický´s trio comprises the drummer Laco Tropp, a veteran of the Czechoslovak jazz scene, and contrabass player Frank Uhlíř.
More information: http://www.musica.cz/viklicky
LACO TROPP
born on March 15 1939, in Kosice, Slovakia
He began his carrier with amateur dixieland bands in Slovakia. For a short period of time he danced with the folklore ensemble Lucnica. He has been living in Prague since 1960 where he is known as one of the best jazz percussionists. He played with many famous bands: SH Quintet, Reduta Quintet, Jan Hammer Trio, Rudolf Dasek Trio etc. Since 1966, he has also played in Munich with prominent European musicians and American soloists — Benny Bailey, Booker Ervin, Don, Menz, George Mraz, Jimmy Jackson, Mal Waldron. He participated in many jazz festivals (e.g. in Prague, Berlin, Paris, Bled, Warsaw etc.) as well as many TV shows. He gave concerts all around Europe, in Egypt and Tunisia. You can hear Laco Tropp's renditions on twelve LPs and CDs. After he returned to Prague in 1991, he alternatively played with Karel Vejvoda's, Stepan Miklovic's and Emil Viklicky's ensembles. Hetoured England and Wales with Emil Viklicky's ensemble and played with them also at jazz festivals in Belgium and Germany.
Also with Emil Viklicky's ensemble, Laco Tropp participated in the Prague Spring festival in 1997 and 1999 when the band accompanied American soprano-saxophonist Steve Lacy and avant-garde multi-instrumentalist Roscoe Mitchell also from the USA. In March this year he joined Emil Viklicky's Trio and the Ad libitum ensemble of Zuzana Lapcikova on their concert tour round the United States (Washington D.C., New York). He recorded 4 CDs with Emil Viklicky Trio and other soloists.
FRANTIŠEK UHLÍR
born on July 24, 1950 in Usti nad Orlici
Frantisek Uhlir is a composer and a double-bass player. He studied classical musical at the Brno Conservatory where he graduated in 1971. Then he moved to Prague, where he quickly established himself on the music scene. He played and recorded with numerous jazz bands and soloists, for instance Karel Velebny's SHQ, Emil Viklicky Q, Laco Deczi Cellula International, Barok Jazz Quintet, Jiri Stivin, Karel Ruzicka, Josef Soska, Rudolf Dasek. He played also with many international groups and players, such as East-West Connection, Czech-Norwegian Band, Dave Weckl, Sonny Costanzo, Joe Newman, Woody Shaw, Ted Curson, Lou Blackbourn, Phil Wilson, Ben Bailey, Benny Waters, Lee Harper, Steve Houben, Tony Nahar, David George, Jarmo Sermila, Roberto Magris, Gianni Cazzola, Robert Morgenthaler, Wolfgang Lackerschmied, J. P. De Barbat, B. Dennerlein, Sal Nistico, Duško Gojkovic, Scott Hamilton. Frantisek Uhlir made several European and world tours with different ensembles (Germany, Netherlands, Belgium, Denmark, Norway, Switzerland, Italy, Spain, Poland, Hungary, Bulgaria, Yugoslavia, Russia, Canada).
He appeared in radio and TV shows both home and abroad. His album "Bassaga" (Panton) which features his own compositions, is one of the best in his extensive discography including over 20 LPs. Frantisek Uhlir has been the leader of his own group called F. U. T. — Frantisek Uhlir Team since 1987.
More information:
www.viklicky.com/html/tropp.php
www.musica.cz/viklicky