Winfried Gruber Quartet featuring Klaus Dickbauer – Villa For Forest
Datum: Do, 14.10.2021 um 19:00
Veranstalter: Verein Innenhofkultur
Ort: Villa For Forest, Viktringer Ring 21, Klagenfurt
Klaus Dickbauer - cl, saxes
Winfried Gruber - p, voc
Primus Sitter - g
Karl Sayer - b
Daniel Aebi - dr
Eintritt: € 20 | StudentInnen und unter 18 Jahren € 10
Supported by FOR FOREST - the voice for trees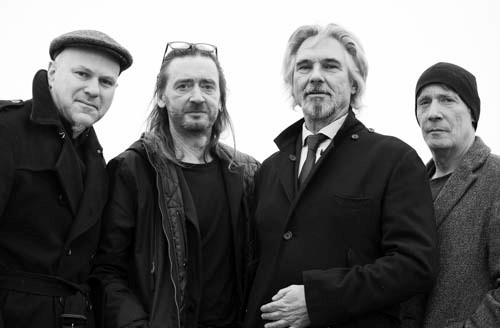 (Klaus Dickbauer hat im Gruppenbild gefehlt, da ein solches erst am 13. Oktober gemacht wird, das Konzert aber schon am 14. Oktober ist)
---
WINFRIED GRUBER QUARTET featuring KLAUS DICKBAUER
Auf den Monat genau vor 50 Jahren, zog der Südtiroler Winfried Gruber nach Wien um in Sachen Architektur und Musik zu machen. Dieses Jubiläum soll mit einer kleinen Tour gefeiert und anschliessend im Studio dokumentiert werden.
Am Programm steht Gesungenes und Instrumentales, alte und neue Stücke die noch nie auf einem Tonträger erschienen sind. Mit von der Partie sind einige der besten Musiker aus dem mitteleuropäischen Raum: der außergewöhnliche Kärntner Primus Sitter an der Gitarre, der unvergleichliche Karl Sayer am Kontrabass, er ist auch für einige Songs mitverantwortlich, das Schweizer Uhrwerk Daniel Aebi am Schlagzeug und, spezielles High light, der unglaubliche Oberösterreicher Klaus Dickbauer an Klarinetten, Saxophon und Maultrommel.
Listen and dig, it's Jazz and it doesn't smell funny, more like teen spirit.