Boštjan Simon | Tomaž Gajšt | Robert Jukič | Kristijan Krajnčan – Villa For Forest
Datum: Mo, 27.05.2019 um 20:30
Veranstalter: Verein Innenhofkultur
Ort: Villa For Forest, Viktringer Ring 21, Klagenfurt
Boštjan Simon (saxophone) . | . Tomaž Gajšt (trompete)
Robert Jukič (bass) . | . Kristijan Krajnčan (Schlagzeug)
Eintritt: € 15 | StudentInnen € 10
Verein Innenhofkultur | Villa For Forest | Kooperationspartner Riedergarten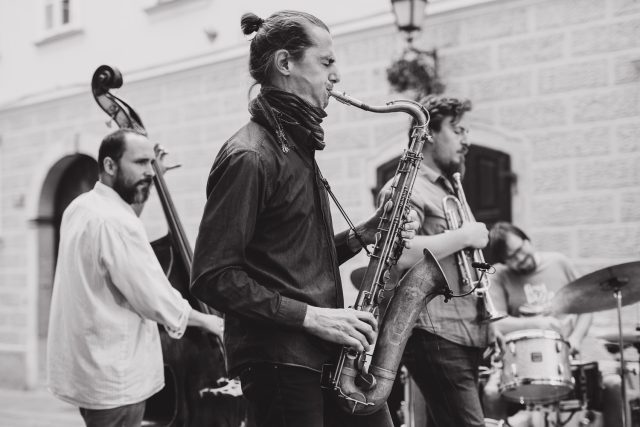 Robert's latest project features some of the most talented and fearless musicians and improvisers from Slovenia. The quartet performs Robert's original compositions based on thoughts about humanity's worst creation – war. Capturing sounds of tragedy, hope, dedication, perseverance, nonsense, Robert combines Balkan-flavoured melodies, sketches of hymns and psalms, marching, mourning and victory songs with improvisation.

Robert Jukič "Paths of glory" will be released in 2019.
Slovenian bassis/composer Robert Jukič has performed and recorded with many international artists and bands in over 25 countries. He can be heard on over 65 records as sideman or composer. He recorded 12 records as leader and is known to explore different musical styles and environments. He collaborates with theater and dance productions and also teaches at various workshops and at the jazz department of Conservatory in Ljubljana, Slovenia.