Babak Maddah – Payam – ABGESAGT !!!
Datum: Mo, 28.04.2014
Veranstalter: Verein Innenhofkultur
Ort: raj, Badgasse 7, 9020 Klagenfurt
BABAK MADDAH HATTE FLUGPROBLEME !!! PARDON.

Babak Maddah : Percussion | Mahan Mirarab : Guitar /Fretless

Special Guest : Klemens Marktl

Eintritt für alle gleich - 12 Euro !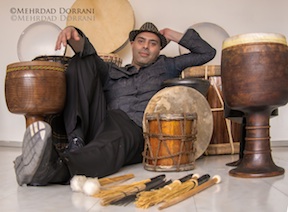 THIS IS AT THE SAME TIME THE PROMOTION OF THE NEW ALBUM unity.
My project PAYAM-band, captures combination""s and interpretations of various musical styles. The result is an exotic melange of my professional studies in jazz and folklore music of my native country, Iran. It portrays my passion for sounds and textures of my personal influences. I was born in southern Iran near the Persian Gulf in a region known for its unique cultural sphere. In this region music is heavily influenced by melodic and rhythmic elements from neighboring Arab countries which they are influenced by Africa. My studies in Jazz and understanding the philosophical idea of it enabled me to communicate my emotional thoughts in a bilingual manner. I use various recipes to mix my understanding of Eastern and Western instrumentation`s , rhythm and melody. In doing so, melody take a backseat to rhythm and harmony in order to focus on the color and texture of sounds. The main goal for me is to create my personal dialect when I communicate through music/sound.
https://itunes.apple.com/us/artist/babak-maddah/id790470753