7 FETTE JAHRE ?
Datum: Sa, 01.04.2006
Veranstalter: Verein Innenhofkultur
Ort: cik@künstlerhaus.klagenfurt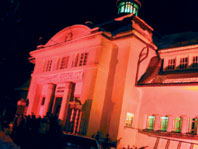 …wenn´s solche waren, sind sie also sicher vorbei.
Nicht vorbei ist unsere Geschenksbereitschaft, deshalb bieten wir Ihnen einen GRATISKULTURMONAT – den April.
(Spenden werden dankend angenommen)
Gleichzeitig verstehen wir unser Geschenk auch als Aufruf für jene, die unsere Veranstaltungen noch nicht besucht haben, jene, die bisher Schwellenangst hatten und jene, die meist anderen Genres den Vorzug gaben.
Und der Jugend!
Und so nebenbei:
Wir sind seit 7 Jahren im Künstlerhaus Klagenfurt!
Folgendes Programm erwartet Sie:
FR, 7. April: MICHI LAGGER TRIO_feat. Jure Pukl
DO, 13. April: KLEMENS MARKTL QUARTETT feat. Renato Chicco
FR, 21. April: MIGRATION_paed conca
SA, 22. April: THE ENDGRAD
SA, 29. April: TAKE THE DUCK_CD-Präsentation
Da wir wieder Sommerzeit haben, beginnen alle Veranstaltungen um 21 Uhr!